PAS mouthpiece HarakahDaily has berated DAP for being disrespectful to Inspector-General of Police (IGP) Tan Sri Acryl Sani Abdullah Sani now that the party perceived itself as part of the ruling coalition.
Instead of showing its appreciation to the police force, the news portal claimed that in the party's quest to be a community champion and "with the opposition mentality remains stuck in its head", DAP was willing to show its stripes even against the IGP himself.
"It hasn't even been three months since coming to power, yet DAP has started showing its fangs," lamented HarakahDaily. "Any issue that can raise their names and interests will be capitalised upon and politicised completely without regard to customs and rules. That is DAP."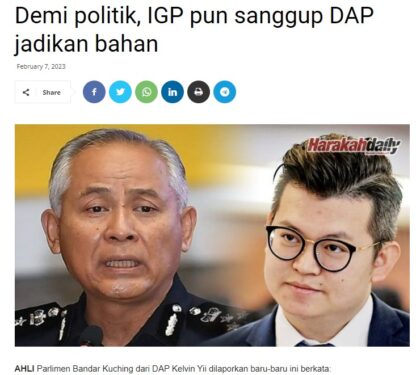 For context, Bandar Kuching MP Dr Kelvin Yii has recently commented that it is the responsibility of the police force to serve the community, and not to "moral police the community" especially when it comes to ensuring the safety and security of the people.
"The recent statement by the IGP Tan Sri Acryl Sani Abdullah Sani insisting that the public must follow government dress code at police stations except in 'life or death' emergencies is flawed and irresponsible as it is the utmost responsibility to serve all regardless of situation," he pointed out in a statement.
The lawmaker was deliberating on the incident whereby a woman reportedly complained that she had been denied entry into a Selangor district police station over the length of her trousers.
She was said to have gone to Kajang police station to report an accident she had met only to be told by a policeman that she could not enter as her trousers were above her knees.
In defending the police, HarakahDaily said the IGP's explanation is based on existing rules that have become the practice and culture of the Malaysian society.
"But because of the power in their hands and their political popularity, DAP quickly ceased the opportunity to attack the IGP who is only doing his job," noted the PAS mouthpiece.
"Whatever the situation is, let the community realise that we have noble customs and culture to protect all these while. After all, it is by sticking to the values of decency and morality that our society is peaceful and disciplined."
Instead of berating at the IGP, HarakahDaily reckoned that DAP as today's ruling party should come forward to calm the situation while advising the public to obey and follow the instructions highlighted by the IGP.
"Maybe the woman in question needs to go to the station as she was involved in a traffic accident, but this is not a life and death emergency," observed the news portal. "The rules state that a road accident case must be reported to the police within 24 hours. Is it not possible to try to first change into decent clothes during that period?" – Feb 7, 2023