FORMER Johor State Legislative Assembly (MLA) for Paloh Sheikh Umar Bagharib Ali has taken a swipe at Kelantan Deputy Menteri Besar and PAS vice president Datuk Nik Mohd Amar Abdullah for insinuating that both Pakatan Harapan (PH) and Barisan Nasional (BN) will be on 'collision course' come the six state level elections in mid-2023.
"In my opinion, conflict happens everywhere and conflict will always be there. PAS itself has never shied away from conflict," the DAP member pointed out in a statement. "Nik Amar needs a mirror. Be thoughtful. Don't let it be like 'spitting in the sky, falling on your own face' (referring to the Malay proverb meludah ke langit, jatuh ke muka sendiri)."
As testament, Sheikh Umar said PAS has often been in a state of conflict since the Islamist party joined Semangat 46, Gerakan Rakyat (GERAK), Barisan Alternatif and even Pakatan Rakyat.
"In its recent history with other coalition parties, PAS has been unable to avoid conflict, especially after the absence of the late Tuan Guru Nik Aziz (Nik Mat)," observed Sheikh Umar.
"At that time, PAS's conflict was whether to continue the party's alliance in Pakatan Rakyat or to cooperate with UMNO which was considered as a pro-unity government or UG group."
As a result of the PAS leadership being unable to manage its internal conflict effectively, the party eventually split into two with the birth of Parti Amanah Negara, according to Sheikh Umar.
Amanah has maintained its stance of strengthening the opposition alliance by entering the 14th General Election (GE14) together with PH.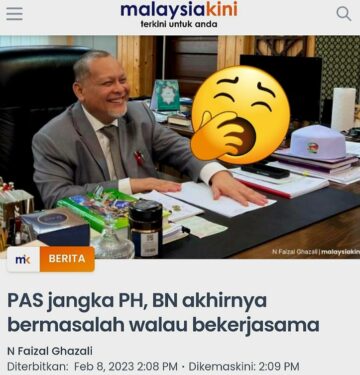 "Even in the recently concluded GE15, PAS faced conflict when there were at least two groups in PAS – group that wanted to be with UMNO through Muafakat Nasional (MN) and those who wanted to be with Bersatu in the Perikatan Nasional (PN) coalition," revealed Sheikh Umar.
"There's no need to expect conflict. Conflicts are bound to happen, let alone in politics. More so, the Malaysian politics today is increasingly hostile."
Henceforth, the question is how conflicts can be managed effectively and successfully. "And I am quite confident that with the leadership line and strength of each party in today's unity government, all conflicts that arise will be managed with prudence and wisdom," added Sheikh Umar. – Feb 8, 2023