NETIZENS have rallied behind first-term Bangi MP Syahredzan Johan by urging him to take immediate legal action against PAS-Perikatan Nasional's (PN) cybertroopers who have been incessantly slandering him with numerous defamatory remarks on the TikTok platform.
"In these few days, (few) PAS/PN supporters have deleted/retracted/apologised over posts that slandered me," the lawyer and former political secretary to retired DAP supremo Lim Kit Siang tweeted.
"I will not hesitate to sue whoever is stubborn. Enough is enough of slandering me. Before the GE15 (15th General Election) campaign, during the campaign and now six months later after I was elected!"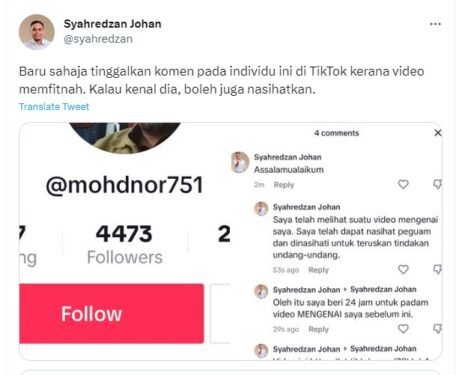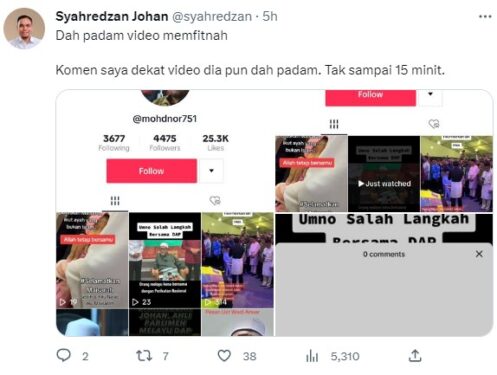 But netizens urged Syahredzan not to give face to the cybertroopers. They reminded the son of National Journalism Laureate Tan Sri Johan Jaafar that he has been "overly generous" by issuing a 24-hour notice to retract slanderous remarks made against him.
"24 hours feel long. Indeed, the modus operandi is to spread first and then delete. Once disseminated, many people will start believing. The longer a post is left (undeleted), the worse it will be," opined netizen Effi Fazril (@effi_fazril).
"Just sue them because the video will be screenshot and spread in WhatsApps and Telegram. Such videos can be upsetting to the general public, especially among the elderly – like my own mother – who are been fed with half-truth," suggested firdaus (@34_aus).
Tiada Nama (@deen3389) also urged Syahredzan to initiate prompt legal action considering that even after a defamatory statement is deleted, "the screenshots can still be viral".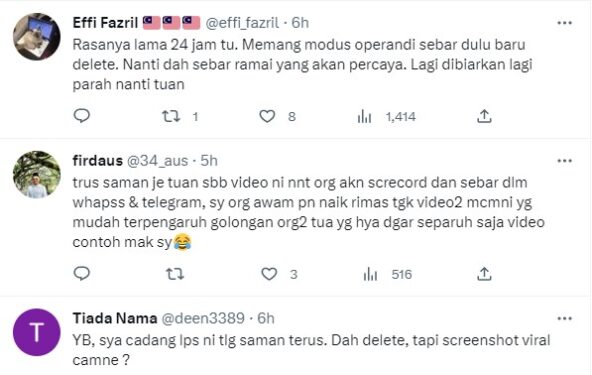 Elsewhere, Fariz Hazwan (@FHMF89) is of the view that it is waste of a time to get the PAS cybertroopers to delete their falsehood. "They will only open another slander account later. Better to report the matter directly to the police," suggested the netizen.
Artemis.P (@Artemis281072) also concurred that it is better to file a legal action directly as "these fellas will never repent" while -Unwanted- (@Knowledge9701) reckoned that Syahredzan has been "giving too many chances to them".
"Should just proceed to sue them as the negative impact they are creating is greater than them just deleting the video," added the netizen. – May 29, 2023