WHETHER it is sheer idiocy or otherwise, Kedah Menteri Besar Datuk Seri Muhammad Sanusi Md Nor is prepared to face a court battle if his detractors want to pursue the issue of Kedah's ownership of Penang to that level.
"Let the police investigate if they want to file a police report. People are afraid when there is no back-up but I have a lot of back-up," HarakahDaily quoted him as telling the media after launching the state-level Farmers, Breeders and Fishermen Day 2023 in Alor Setar yesterday evening (June 1).
Earlier yesterday, Jelutong MP RSN Rayer lodged a report at the Jalan Patani police station in Penang against Sanusi over the latter's claims that Kedah owns Penang.
On Monday (May 29), Sanusi had claimed that Penang was under the ownership of Kedah, and that Perak and Perlis were the only states that had a border with Kedah.
"I'm waiting for confirmation from the Department of Survey and Mapping Malaysia. From what I know, Penang belongs to Kedah," he said after the inking of a land and maritime boundary agreement between the Kedah and Perlis state governments.
"There is no such thing as the Kedah-Penang border. Our state border ends near the island there (Balik Pulau). How can it (Kedah-Penang border) be measured? Which gazette should we use?"
In retaliation, Sanusi's Penang counterpart Chow Kon Yeow had suggested that the court will be the best avenue to resolve the former's outlandish claims.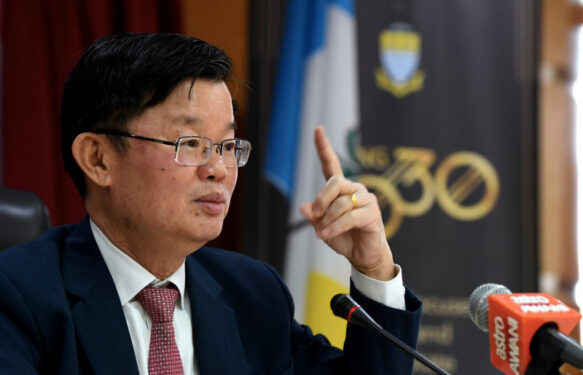 "This is not the first time he is making such claims. We'll see whether he wants to see us in court over the matter," reacted Chow said after he was asked whether Penang was considering taking action against Sanusi for defamation.
"Well if he is joking seriously, we will be listening seriously to all his claims. He should refer it to court."
On Tuesday (May 31), DAP national chairman and former Penang chief minister Lim Guan Eng has rallied Penangites to lodge police report against Sanusi for creating public disaffection and trying to cause enmity between Kedahans and them by claiming that Penang still belongs to Kedah.
Even Prime Minister Datuk Seri Anwar Ibrahim has lambasted Sanusi for claiming that Penang still belongs to Kedah when the Perikatan Nasional (PN) election director should be well-versed about the Constitution and be bound by legal aspects.
"Sometimes, when a leader speaks, he has to understand the Constitution, he has to understand what is an agreement," he told the media after officiating the Fikrah Siddiq Fadzil seminar at Dewan Bahasa dan Pustaka (DBP) in Kuala Lumpur on Tuesday (May 30).
"The agreement may have been signed 300, 1,000 years ago, (but) there is a final agreement of establishing the Federation of Malaya and that is clear. To say things in terms of political drama is another matter but as a MB, I think it is only appropriate to be bound by legislation." – June 2, 2023