THE clue to whether Malaysia is on a dangerous path that will eventually alienate the country from the rest of the world's democratic, progressive nations can be found in a news report about a local concert.
According to the report, Perikatan Nasional's (PN) youth wing chief Ahmad Fadhli Shaari aired his grouses over the attendance of tahfiz (Islamic religious school) students at the concert. He questioned the rationale behind the invitation being extended to religious students for such an event.
The concert on Aug 26 at the Malawati Stadium in Shah Alam featured local artistes such as Amy Search, Siti Nurhaliza, Ella, Misha Omar and home-grown band Bunkface.
Note that the event was not staged by some foreign artistes who may have had controversial values by Asian standards. It featured local artistes with many of them Muslims themselves.
A businessman who sponsored the children to enjoy the harmless concert which was also graced by a Muslim Prime Minister and his wife (Datuk Seri Anwar Ibrahim and Datuk Seri Wan Azizah Wan Ismail) has admitted he was responsible for the presence of tahfiz students in the audience of the KEPCI Music Fest (to commemorate KFC's 50th anniversary in Malaysia).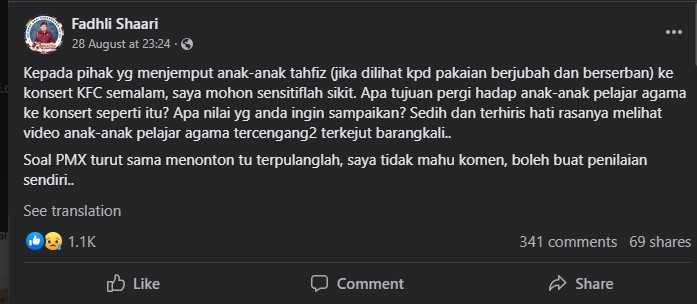 All that Andrie Ung Han Xiang wanted was for the tahfiz students and orphans "to experience a festival".
It was not some immoral festival of obscenities with half-naked artistes parading on stage. And yet, this festival could not be free of some controversy.
The question is what is so sinfully wrong about treating 700 orphans from 22 orphanages nationwide to a local concert?
'Dangerous extremist agenda'
Note too that Ung is the son of a local Chinese businessman whose contributions to Muslim orphans, the poor and the homeless community were recognised at the Muslim World Entrepreneur Development Awards in 2018.
PN's alarm noted in Fadhli's "what values (is the philanthropist) trying to inculcate" seals the fact that there are forces intent on sowing and eventually harvesting a certain type of religious extremism in the country.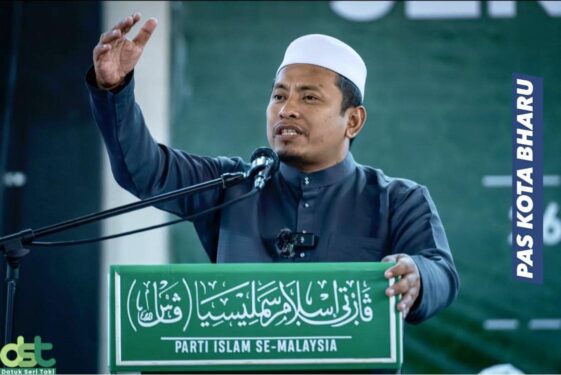 This type of extremism is not in line with what our rulers who are the heads of Islam in the country have indicated.
Fadhli added: "It saddened me and hurt my heart to see videos of the religious students appearing 'stunned' and 'surprised' (at the concert)."
His words give us a glimpse of what many suspect is an example of the type of dangerous extremist agenda being used to manipulate the minds and hearts of the younger generation and the disadvantaged segments of society (ie the orphans).
Is good clean music and entertainment bad? Is wholesome popular music and entertainment against the teachings of Islam?
Hopefully, more moderate Muslims will put a stop to these extreme and fanatical thoughts that are slowly being pumped into the country. Let's hope they will be able to restore the same approach to Islam embraced by progressive Islamic nations the world over.
If they do not do so, incidents like this will slowly seal the fate of this land and place it in the hands of extremists and radicals. Let everyone in Malaysia – irrespective of his or her religion – stand by our rulers to return the glory of a more graceful moderate Islam to Muslims here. – Sept 5, 2023
An ALIRAN member, JD Lovrenciear is a Kuala Lumpur-based writer, trainer and consultant who also offers his time to support initiatives to build a progressive society. This opinion of his was first aired on the ALIRAN portal.
The views expressed are solely of the author and do not necessarily reflect those of Focus Malaysia.