A NEW industry report has found that Digi users in Malaysia have the fastest average download speeds in the country (20.5 Mbps), with a significant average gap between the local telco and other national operators (65.1% to 137.7%). 
Independent analytics company Opensignal, which also announced the winners of its Malaysia Mobile Experience Awards 2022, added that Celcom has a firm grip on 4G coverage experience (getting a 9.2 score on a 10-point scale), followed by Digi and Maxis which were tied in second place (8.6). 
On the other hand, the previous sole winner of Opensignal's video experience award – Maxis – is now sharing the top spot with Digi after users of both telcos were found to have the best available quality of experience while streaming video over mobile connections. 
They had statistically-tied scores of 43.2-43.3 points (on a 100-point scale), with U Mobile and Unifi close behind, scoring 42.6 and 41.4, respectively. However, the video experience scores of all four operators were placed in the fair category (40-55). 
Meanwhile, Maxis users were also found to be enjoying the best multiplayer mobile gaming experience, winning Opensignal's games experience award with a score of 67.3 points, giving it a lead of 2.5 points over second-placed U Mobile.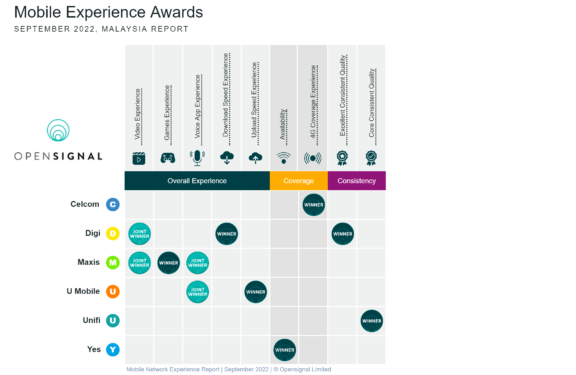 With this score, Maxis earns a fair (65-75) rating for games experience – one higher than the ratings of any of its other competitors. 
Digi also won the excellent consistent quality award as the operator met the minimum recommended performance thresholds for HD video, group video conference calls and gaming for the highest percentage of users' tests.   
Digi's score of 64.8% is 2.1 percentage points ahead of second-placed Unifi's 62.7%. 
Opensignal's analysis – published in its Malaysian Mobile Network Experience Report 2022 – was made at a national level as well as across 15 Malaysian territories, aimed at helping Malaysian mobile users understand which mobile network may be best for them based on how they use their phones and where they live in the country. 
The awards they provided compared and ranked local mobile operators utilising "millions of measurements" collected by Opensignal during a 90-day period between June 1 and Aug 29, 2022, and provides a realistic snapshot of the experience of Malaysian mobile users and the performance of the various telcos during that timeframe. 
"Mixed fortunes" 
Commenting on the findings, Opensignal said it saw mixed fortunes, with each of the six operators it surveyed (Celcom, Digi, Maxis, U Mobile, Unifi and YES) winning at least one award category outright; Digi and Maxis took home the largest share of awards.  
"Overall, these results highlight the importance of measuring multiple factors that contribute to a good mobile network experience rather than just focusing on speed," the company said. 
Opensignal also took a deep dive into the regional performance of Malaysia's mobile operators across 15 Malaysian territories (Johor, Kedah, Kelantan, Kuala Lumpur, Melaka, Negeri Sembilan, Pahang, Perak, Perlis, Penang, Putrajaya, Sabah, Sarawak, Selangor and Terengganu).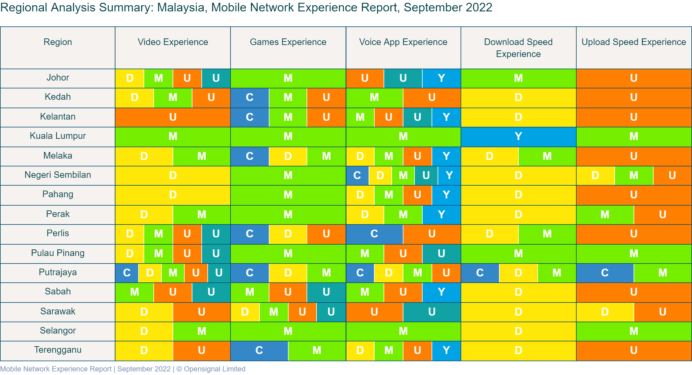 The data provides interesting insights for Malaysian consumers as the performance of telcos varies widely across the country. 
Looking at regional video experience, the national winners – i.e. Maxis and Digi – placed top in 10 and 12 regions respectively. This includes Digi's outright win in Negeri Sembilan and Pahang as well as Maxis' sole outright win in Kuala Lumpur.  
It is also noteworthy that U Mobile won outright in Kelantan and placed joint top in eight regions. 
Maxis dominated the regional results for games experience by placing top across 14 regions. The operator won outright in seven regions and collected joint wins in a further eight.  
Perlis was the only region where Maxis did not make it to the winning position; users in Perlis saw the best available games experience on Celcom, Digi and U Mobile's networks. 
Turning to the speed categories, Digi won the vast majority of the regional awards for download speed experience, while U Mobile dominated the regional upload speed experience.  
Users on Digi's network, on the other hand, enjoyed the top download speeds in 12 out of 15 regions, with outright wins in nine regions. 
However, in Kuala Lumpur, YES users saw the fastest download speeds, with speeds averaging 33 Mbps – 172.7% faster than YES' national average.  
Opensignal said this could likely be due to the introduction of 5G, among other factors, as Kuala Lumpur is one of the selected locations where YES has launched its 5G network.   
Meanwhile, Maxis won in Penang. Maxis was also the only other operator to win the regional upload speed experience award outright, with users reporting the fastest overall upload speeds in Kuala Lumpur, Penang and Selangor. – Oct 2, 2022 
Main photo credit: TheNerdStash