Letter to editor
ONE wonders if incarcerated ex-premier Datuk Seri Najib Razak will be given a fair chance in stating his case and his innocent stance at the upcoming judicial review of his conviction for siphoning RM42 mil from funds belonging to SRC International Sdn Bhd on Feb 20.
Recall that the Federal Court chaired by Chief Judge of Sabah and Sarawak Datuk Abdul Rahman Sebli had heard the latest bid by Najib to overturn his guilty verdict as well as the 12-year jail sentence and RM210 mil fine on Jan 19.
During the hearing, Najib failed to recuse a judge from presiding over the proceedings with Abdul Rahman saying that the court was not persuaded by Najib's lead counsel Tan Sri Muhammad Shafee Abdullah's argument that Justice Datuk Abu Bakar Jais, a Court of Appeal judge, should recuse himself from hearing the review application.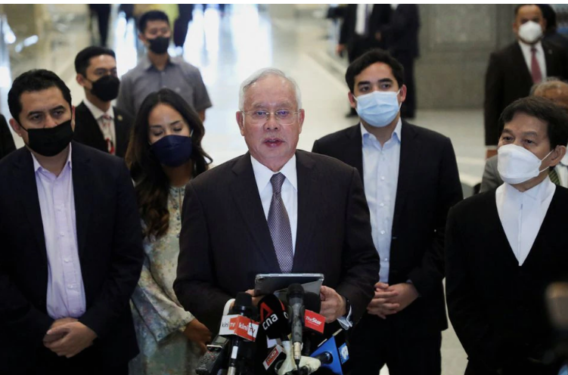 After several hours of oral submission by both parties, the five-person apex court bench then allowed an application by Shafee to adjourn the proceedings to Feb 20 and 22.
Despite the Federal Court having upheld his 12-year jail sentence imposed by the High Court on Aug 23, the former Pekan MP has left no stone unturned in maintaining that he was innocent all the while.
On Jan 5, he has also filed an appeal at the United Nations Working Group on Arbitrary Detention (UNWGAD) in Geneva in his quest for justice by seeking a release or a re-trial of the SRC International case.
There seems to be hope for some light at the end of the tunnel for the embattled Najib or is there any?
Recently, the government dropped its appeal for the forfeiture of 1MDB (1Malaysia Development Bhd) funds valued at RM149 mil to 11 organisations.  It has been a long while since any decision of the court has been perceived in positive light for the former premier.
What does destiny hold for Najib at the judicial review? In all frankness, one cannot totally disagree that Najib's previous conviction was somewhat influenced by trial in the media.
A prominent constitutional lawyer who spoke on the condition of anonymity said he believed that Najib would be given an impartial and fair hearing. "I believe that Najib would be given all the opportunities to present his case and it's really up to his defence team to put up a cogent case," said the lawyer.
Malaysians will wait with bated breath on the outcome of the judicial review. We hope democracy will prevail with Najib given all the opportunities to present his case in a fair and transparent manner. – Feb 8, 2023
Eye for Justice
Kuala Lumpur
 The views expressed are solely of the author and do not necessarily reflect those of Focus Malaysia.