TODAY is the nomination day for the Pulai parliamentary and Simpang Jeram state by-elections because of the death of its incumbent, the late Datuk Seri Salahuddin Ayub.
PAS leaders see both by-elections in Johore as a gateway for the "Perikatan Nasional (PN) wave" to spread to Johor and eventually wrestle the state from the present Barisan Nasional (BN) administration.
They have urged the voters in Pulai and Simpang Jeram "to experiment" while ensuring that the "PN wave" is maintained, hence sending a strong signal to Pakatan Harapan (PH) and BN.
The voters of Pulai and Simpang Jeram should do the very opposite and inflict major defeats on PN and PAS to demonstrate that Johor voters do not want PAS to administer the state in view of the risk of reducing it to one of the poorest states in Malaysia like Kelantan.
When Malaysia achieved independence in 1957, Kelantan's GDP (gross domestic product) per capita was about half that of Malaysia. After over three decades of PAS rule, Kelantan's GDP per capita has fallen to about one-third of Malaysia's GDP per capita.
If PAS continues to rule in Kelantan and does not change its ways, Kelantan's GDP per capita may fall of a quarter of the national GDP per capita when Malaysia marks its first Centennial on 2057!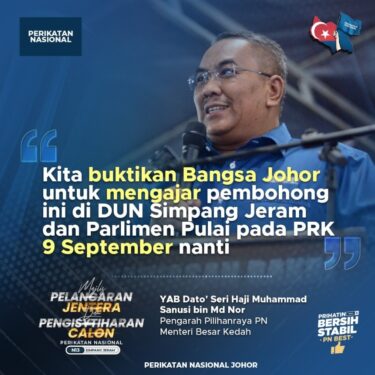 I do not believe there is any state in Malaysia who wants to have a GDP per capita on Malaysia's Centennial which is only one quarter of the national GDP per capita as the people would want their economic growth to be like Penang, Selangor and Negri Sembilan which have GDP per capita above the national average.
PN and PAS have made headway in the six state polls on Aug 12 because they had exploited the 3R (race, religion and royalty) issues and benefited from the sea of lies, falsehoods, fake news and hate speech prevalent in the social media era.
PAS president Tan Sri Hadi Awang, for instance, has yet to present an iota of evidence to substantiate his wild and preposterous allegations that the DAP is anti-Malay, anti-Islam, anti-royalty, communist and promoting Islamophobia thus proving that he is one of the most dishonest, irresponsible and untrustworthy political leaders in the country.
Islam, like the great religions of the world, do not teach any of its followers to use lies, falsehoods, fake news and hate speech to solicit support and votes. – Aug 26, 2023
Veteran lawmaker and retired DAP supremo Lim Kit Siang was Malaysia's longest-serving opposition leader (29 years on three separate occasions).
The views expressed are solely of the author and do not necessarily reflect those of Focus Malaysia.