UNDETERRED by the fact that his party is the only non-Malay party in the Perikatan Nasional (PN) coalition, Gerakan president Datuk Dr Dominic Lau Hoe Chai (front row, right) has reiterated his party's support for the coalition's chairman Tan Sri Muhyiddin Yassin which the party described as "our Abah (moniker to mean a fatherly figure), our leader".
The Penang-born senator who was among the sea of PN supporters at the vicinity of the Malaysian Anti-Corruption Commission (MACC) headquarters in Putrajaya this morning was obviously disappointed that the Bersatu president was unfairly treated by both the graft-buster and the unity government.
"I'm grateful to be part of the massive turnout whereby apart from PN supporters, there are also many concerned Malaysians who joined us to render support to Muhyiddin and PN," Lau who succeeded Datuk Seri Mah Siew Keong as Gerakan's president in November 2018 shared in a video clip posted on the Gerakan's Facebook page.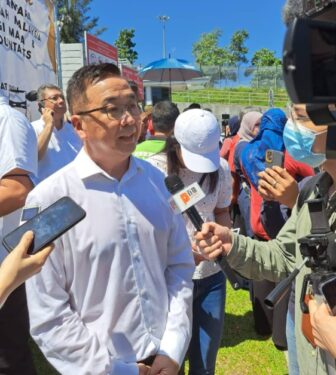 "We are truly disappointed with the unity government for using dirty tactics in its quest to destroy PN and tarnish Muhyiddin's image."
Above all else, Lau who was not offered a seat by PN to contest in the recently concluded 15th General Election (GE15) said PN as a whole would not give up its struggle but "have expected such maltreatment in conjunction with the upcoming dissolution of state assemblies to make way for the state polls (in June/July)".
"They (the unity government) will struggle in the state polls for the rakyat has eyes to see what the unity government is doing … instead of focusing on an array of the rakyat's problems, including overcoming inflation, they use dirty tactic on their political opponents," claimed Lau.
"In Penang for instance, the DAP-rule state assembly has ejected four Bersatu state assemblymen who had previously withdrawn their support for the state administration (in what is touted as a historic first) which is a clear sign that the state government is worried sick about PN's influence.
"But we shall rise once again for the rakyat has eyes to see the injustice … we shall see who gets the mandate from the rakyat at the end of the day," added Lau.
While it is enthusiastically able to render staunch support to the PN struggle, there is a line drawn for Gerakan in that PN has to sideline the smallest of its coalition member from participating in tonight's mass solat hajat (prayer of needs) in Taman Melewar, Gombak.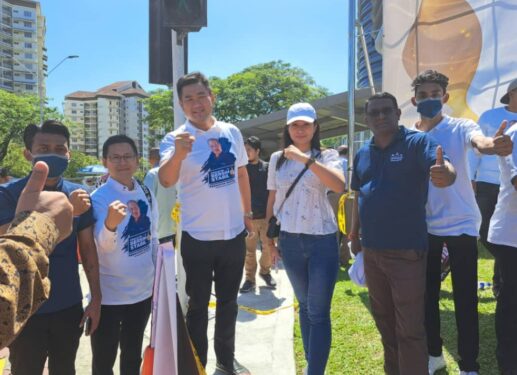 "All PAS and Perikatan members should attend the solat hajat for the security of the country and solidarity against cruelty," noted PAS secretary-general Datuk Seri Takiyuddin Hassan in a statement.
"The central PAS and central Perikatan directs all their members, especially in Selangor and the Federal Territory, to attend the programme at 7pm at the PAS Centre in Taman Melewar, Gombak." – March 9, 2023