DEPUTY Prime Minister Datuk Seri Dr Ahmad Zahid Hamidi who is also the Rural and Regional Development Minister has officially unveiled the national expansion of British American Tobacco (M) Bhd's Beyond Benih community farm garden programme.
The "Beyond Benih" programme is part of BAT Malaysia's commitment towards building A Better Tomorrow by creating an equitable and sustainability future for all.
To-date, BAT Malaysia has completed two gardens – in Shah Alam and Tanjung Karang – and have committed to launch more across the nation this year.
These gardens drive sustainable livelihoods as communities can grow their own produce following good agriculture practices after which they can sell their harvest at a lower cost to communities in the area.
Funds raised are then injected back into the garden while also remunerating resident volunteers. The programme was designed and delivered in collaboration with the Department of Agriculture and the resident associations of the selected communities.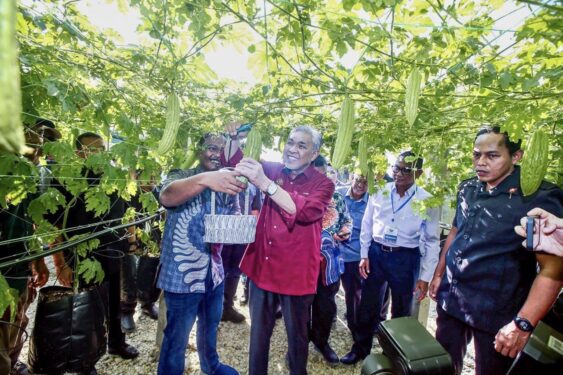 "Our commitment to A Better Tomorrow is the driving force behind all our initiatives. At the heart of this purpose is our focus on sustainability which is in the front and centre of everything we do," commented BAT Malaysia's managing director Nedal Salem.
"We firmly believe that ensuring food security by building a resilient food system plays a pivotal role in building strong communities. Community gardens bring people together, teach valuable skills, and promote sustainable practices, ensuring a brighter future for all."
In this regard, Nedal said BAT Malaysia is committed to empower communities across Malaysia as well as being steadfast in its drive to create independent, prosperous and environmentally-friendly agricultural communities that can achieve food self-sufficiency across the nation.
"Through this programme, we intend to transform the lives of over 250,000 beneficiaries by 2026," he pointed out.
Throughout this programme, BAT Malaysia's role will be to support communities with resources and funding, knowledge transfer, and technical support via state level Department of Agriculture and the resident's association.
"BAT Malaysia's efforts have made a significant impact in our community, by empowering us and enhancing our well-being," revealed Persatuan Anak Tani Sungai Gulang-Gulang's head Ayub Fakhri Daim
"We are truly appreciative of BAT Malaysia's presence in our community and their drive to foster a sustainable future for us all." – Aug 12, 2023