HEALTH Minister Dr Zaliha Mustafa stated that there is no epidemic or outbreak of tuberculosis (TB) in the Klang Valley. She emphasised that the situation is under control, in contrast to rumours circulating on social media. 
"There's no epidemic or outbreak. TB cases are always around the corner and we are constantly monitoring the spread of the disease in the Klang Valley. 
"The health department is studying this issue and we hope the public will stop spreading unverified information that will cause panic," Zaliha told reporters after launching the World AMR Awareness Week 2023 at Putrajaya today.
Over the past few days, a notice from the management office of a Klang Valley apartment complex went viral after it claimed there was an outbreak in Cheras, Kuala Lumpur.
A notice circulated in WhatsApp groups.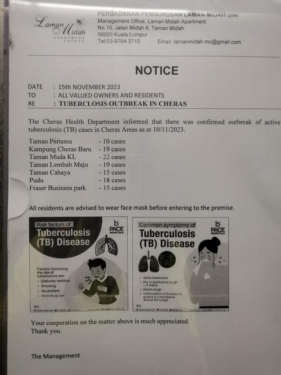 According to the notice above, the Cheras health department said there was a confirmed outbreak of active TB cases in Cheras as of Nov 10, 2023, adding that there were more than 100 active cases. 
However, Dr Zaliha noted that the disease is under control and people may acquire updates from the MySejahtera app.
"We encourage anyone who is displaying symptoms of TB to receive treatment. In Mysehajtera, you can see the total number of cases in different areas. There's no outbreak right now; it is still under control." 
According to the MySejahtera tracker on infectious diseases, there have been 11 TB cases reported in Cheras in the past 60 days. – Nov 18, 2023