QUINTON Capital Sdn Bhd (Quinton Capital) an investment arm of Quinton Group along with ECH World Wide Energy (M) Sdn Bhd (ECH) signed a strategic partnership agreement and announced its business collaboration with CIP Software Corporation Japan (CIP) at M Summit Hotel today (Oct 14).
The agreement was signed by ECH chief executive officer Eng Chin Heng and CIP director Professor Takashi Yabe, witnessed by Quinton Capital managing director Datuk Dr Kenny Tan and ECH Japan director Professor Yoshitaka Matsushima.
The fields of the cooperation agreed upon are related to the production of magnesium batteries, strategic roadmap for setting up renewable energy using water desalination and laser refining technologies.
Besides, Takashi is a scientist at Tokyo Institute of Technology (TIT). He was known for his extensive research work in using magnesium as a clean alternative to fossil fuels. He was chosen as an innovator of "Heroes of Environment 2009" by TIME Magazine.
ECH, Quinton Group and CIP aims to spearhead development of alternative renewable energy resources in Malaysia, contributing and aligning with the nation's goal of becoming carbon-neutral by 2050.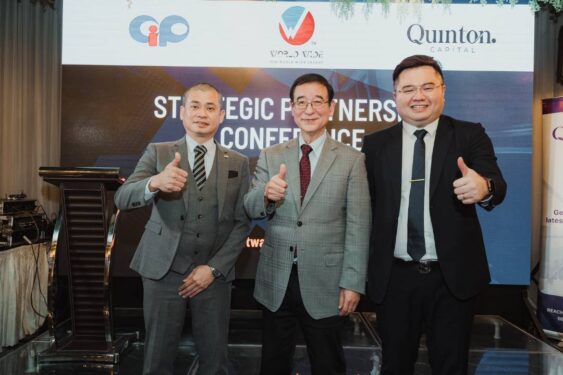 "CIP's mission has always been contributing and creating a sustainable carbon-free society using magnesium power. I am thrilled to announce that we have completed the technologies and are moving towards the stage of practical use," Takashi commented.
Furthermore, this partnership agreement includes the exclusive rights by ECH and Quinton Capital to use CIP's patented technology in developing and distributing magnesium batteries, water desalination and laser refining equipment across 13 countries in Asia.
Common priorities include setting up factories to produce sustainable energy which would provide significant profit in the investment landscape.
Meanwhile, ECH chief executive director Eng Chin Heng said, "A new energy infrastructure requires substantial capital and technical skills. The commitments of CIP and ECH in sharing exclusive technology, experience and expertise through the joint initiatives would ensure sustainability, adequacy and diversity in creating a path towards cleaner energy."
This partnership came timely with the government's Budget 2023 announcement allocating RM1 bil under Low Carbon Transition Financing funds for small and medium-sized enterprises (SMEs). This would help strengthen the business resilience, support sustainable transition and attract high quality investment on green projects.
"With the accelerating and emergence of renewable energy in the evolving global market, convening with experienced industry experts to tackle sustainable energy initiatives is of vital importance to stay ahead in the market trajectories.
"Through this strategic partnership along with the government efforts to reduce carbon emissions, we are optimistic with the renewable energy investment market outlook in the Association of Southeast Asian Nations (ASEAN)," said Kenny.
The deployment of the new sustainable energy project through CIP's exclusive technology which is currently available only in Japan would greatly benefit Malaysia's path towards greener environment efforts.
On a side note, ECH's capital injection into Quinton Capital is on its last processing stage and the fund is scheduled to disburse soon. The fund would replenish Quinton Group's capital reserves and further enhance the company's growth. – Oct 14, 2022