ELK-DESA Resources Bhd, a non-bank lender focused on the used-car segment, posted a 85.2% jump in its net earnings for the financial year ended FY3/2023 to RM47.74 mil (FY3/2022: RM25.77 mil) buoyed by higher contribution from its hire purchase and furniture segments in tandem with Malaysia's post pandemic recovery.
At the same time, the company's revenue surged to RM155.24 mil from RM128.89 mil a year ago.
On a quarterly basis, ELK-Desa saw its net earnings rose 35.25% to RM7.49 mil (4Q FY3/2023: RM5.54 mil) while its revenue inched up 12% to RM40.30 mil (4Q FY3/2023: RM35.96 mil) from the corresponding quarter a year ago as a result of higher contribution from its hire purchase segment.
More broadly, the group's hire purchase receivables as of end-March rose 23% to RM575.10 mil from RM468.05 mil last year. This was in line with its efforts to normalise hire purchase receivables growth in view of the recovering macro-economic landscape as well as reduced risks of further disruptions to its operations from the COVID-19 pandemic.
The expansion of the group's hire purchase portfolio saw the segment's revenue edged up 18% to RM100.76 mil from RM85.30 mil a year ago. Pre-tax profit for the segment climbed by 77% to RM57.82 mil from RM32.72 mil primarily due to the larger hire purchase portfolio as well as lower impairment allowances.
Year-on-year, impairment allowance decreased by 68% to RM6.99 mil while the group's credit loss charge decreased from 4.13% to 1.23%.
"The exceptionally low credit loss charge was a result of positive recovery activities and our hirers' continuous repayment trend in FY3/2023 especially in the first quarter of the financial year," ELK-Desa pointed out in a media statement.
"Net impaired loans ratio also decreased to 1.92% as of end-March 2023 from 2.89% exactly a year ago."
Elsewhere, FY3/2023 saw the group's furniture segment recorded a 25% increase in revenue to RM54.48 mil and a notable 153% rise in pre-tax profit to RM5.49 mil due to higher furniture sales as well as increased gross profit margin from 33% to 38%.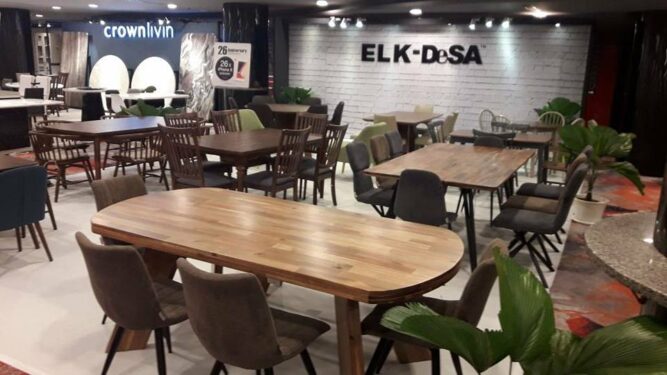 "Our performance in FY3/2023 was exceptional given that our net hire purchase receivables had recovered by 21% when compared to FY3/2022," commented ELK-Desa's executive director and chief financial officer (CFO) Teoh Seng Hee.
"As we move forward into FY3/2024, we are not expecting a similar sharp expansion in hire purchase receivables in view of the macro-economic uncertainties."
In addition to external risks and inflationary pressures, the used car financing industry may also require process changes to adapt to the new regulatory oversight by the Consumer Credit Oversight Board which is expected to come into effect in 2024, according to Teoh.
"Nevertheless, we remain confident that demand for used car financing will continue to out-strip supply, more so within the niche and underserved used car financing market that we operate in. As such, we intend to continue to grow our hire purchase receivables in FY3/2024 albeit at a more moderate pace," he projected.
For its furniture segment, ELK-Desa will stay on track with its strategic direction to grow organically, focusing on the domestic wholesale market to distribute its furniture products to more than 800 furniture retailers throughout Malaysia, especially in Sabah and Sarawak.
In light of its impressive financial performance, ELK-Desa has declared a second single tier interim dividend of 3.50 sen in respect of its FY3/2023.
Alongside the first single-tier interim dividend of 4.50 sen (3 sen after restated for bonus issue), the total dividend for the FY3/2023 would be 6.50 sen (FY3/2022: 3.50 sen after restated for bonus issue).
This represents a dividend payout ratio of approximately 62% of the net profit which is higher than the dividend policy of 60% set by the board.
At the close of today's trading, ELK-Desa was flat at RM1.19 with 31,200 shares traded, thus valuing the company at RM541 mil. – May 22, 2023