ENGLISH band, 1975, found themselves in hot water with the local authorities to the point of getting banned from Malaysia for having transgressed against the laws of the country.
They went up on stage and made several remarks about LGBTQ (lesbian, gay, bisexual, transgender and queer) rights in Malaysia coupled with an obscene act yesterday at the Good Vibes festival in Sepang. As a result, Malaysians are in an uproar against the band.
In the wee hours of the morning, Communications and Digital Minister Fahmi Fadzil expressed strong disappointment with the actions of the English band. Their frontman, Matty Healy, kissed bandmate Ross MacDonald during yesterday's concert in protest of the laws of Malaysia.
Before the kissing incident, Healy gave a speech on his disappointment with the country's discrimination against the LGBTQ community.
Additionally, Healy's behaviour indicated he may have been intoxicated during the performance, leading the organisers to halt the show midway. Such behaviour will surely offer ammunition to those who are opposed to holding such concerts in Malaysia.
The incident went viral all over the world. Twitter user melanie⁷ @vanillarumsboat posted a video of the whole ordeal with the caption, "Ummm? The 1975 just got banned from KL".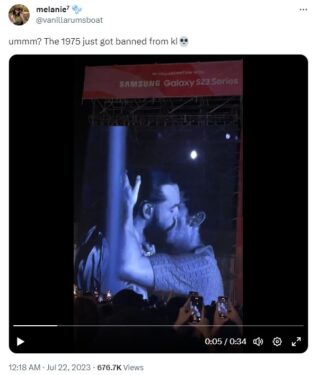 Moreover, netizens are expressing their dismay towards the band. Twitter user Ezy| KL Real Estate Specialist (@ezyezzreen) states:
"The problem is that this lizard boy has gotten into trouble many times previously by getting banned in Dubai and allegedly stepped on a Korean flag, etc. Clearly, he doesn't have manners at all, and it's really an attitude problem. How come the organisers are unaware of this (his behaviour)?"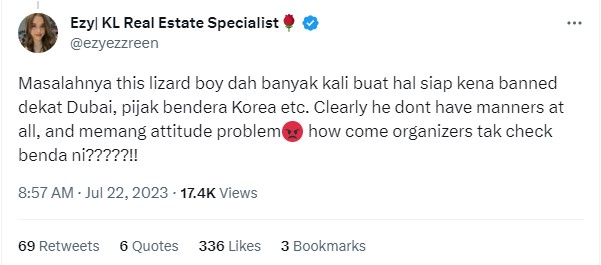 Added netizen Nad (@noreennadia): "This is so disrespectful and rude of him. Shouldn't have performed here in Malaysia if he couldn't accept the rules that are set here by our government."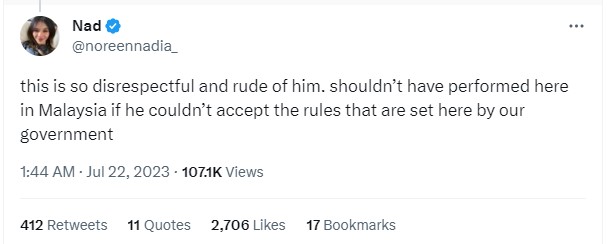 Moreover, there are several accusations against Healy by other artists. Pop Base (@PopBase) posted last month: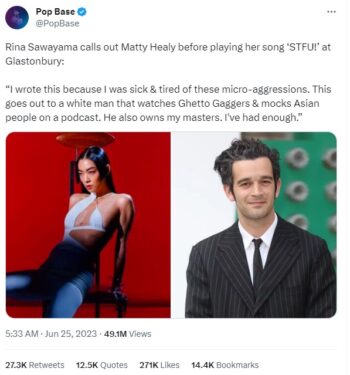 However, some westerners are stating the contrary of what Malaysians are saying. Netizen pa (@itsaIIpink) stated: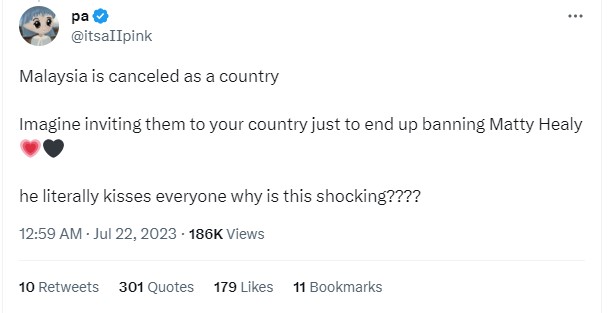 Anyway, below is the self-explanatory reaction by the event organiser over last night's incident: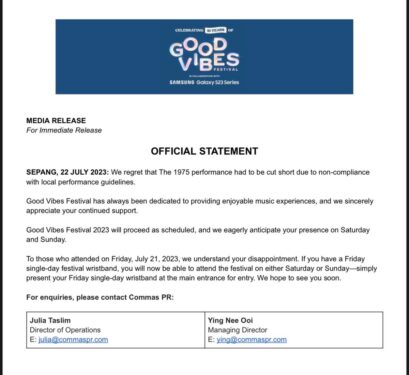 Main pic credit: Rolling Stone