UNABLE to stomach anymore lies, malice and defamatory remarks from PAS, retired DAP supremo Tan Sri Lim Kit Siang has instructed his lawyers to institute legal action against former UMNO warlord-turn-PAS member Tan Sri Annuar Musa for linking him with the May 13 racial riots.
For context, the former communications and multimedia minister had claimed that "DAP had a significant stake" in the May 13 incident as Kit Siang had campaigned under the DAP banner during the 1969 general election after which the bloodshed occurred of May 13, 1969.
"If you open the book that compiles Lim's speeches, it includes one when the killings took place in Kampung Baru. Lim was giving a speech in Kota Kinabalu, still fanning the flames for Bumiputera and non-Bumiputera issues," Malaysiakini had cited Annuar as claiming in front of some 1,000 people who gathered for a PAS ceramah in Bachok, Kelantan.
In his rebuttal, Kit Siang said there is no such book and the claim "it is a figment of Annuar's imagination".
"Annuar Musa has joined PAS and the first thing he has done is to emulate PAS president Tan Sri Hadi Awang to make wild, preposterous and unsubstantiated allegations," lambasted the country's longest serving opposition leader (29 years on three separate occasions).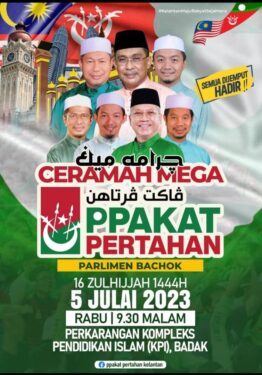 "It is not that I had not repeatedly stated that I had no links with the May 13 riots. This is proof that PAS is using lies, falsehood, fake news, and hate speech in (run-up to) the six state polls in Penang, Selangor, Negri Sembilan, Kedah, Kelantan and Terengganu on Aug 12."
Kit Siang further revealed that he was originally slated to contest in the Bukit Bintang parliamentary seat in the 1969 general election but following an electoral understanding with Gerakan on the eve of polling day, he eventually switched to the Damansara parliamentary seat.
"At the last minute, however, I was sent to contest in Bandar Melaka where I started my parliamentary journey," recalled the veteran lawmaker. "If I had contested in the Kuala Lumpur (KL)/Selangor seats, it would have been much more difficult to rebut the wild and preposterous allegations that I was involved in the May 13 riots."
Moreover, the former Iskandar Puteri MP said he was never in KL on May 11, 12 and 13 of 1969. In fact, on the morning of May 13, he flew to Kota Kinabalu to help the independent candidates as polling day in Sabah and Sarawak was scheduled later.
"It is strange that I am now accused of being a communist although the communists who launched a boycott of the 1969 general election wanted me to lose Bandar Melaka seat in 1969 and that I am further accused of causing the May 13 riots when I was not in KL at that time," lamented Kit Siang.
"Annuar Musa did not know (this) but the police and the Special Branch at the time knew," he added. – July 8, 2023
Pics credit: Tan Sri Annuar Musa' Facebook