AS of today, I, Dr Rais Hussin Mohamed Ariff, is no longer a member of Parti Pribumi Bersatu Malaysia (BERSATU).
My official letter has been sent to the party yesterday (Oct 6). I have had many fond memories with this party – from its pre-infancy, ie before its establishment, from ground sub-zero.
The challenges then were immense but together we made the impossible possible which was against all odds.
Throughout my active role in the party, I never shied away from speaking the brutal truth to the powers that be, more often than not at my personal costs.
Be that as may, I cherished so much the various responsibilities given to me by the party and the then Pakatan Harapan (PH) coalition.
Admittedly, I have been an inactive party member since 2020 after a heart procedure and focused much on developing and nurturing EMIR Research as an independent think tank focused on strategic policy recommendation based on rigorous research.
Although I am no longer a member of PPBM, I will still actively pursue my struggle for a better Malaysia – for the MANY based on five core principles, namely reforms, justice, inclusiveness, progressiveness and wasatiyyah (justly-balanced approach). This is what led me to co-found PPBM despite the monumental tasks ahead then.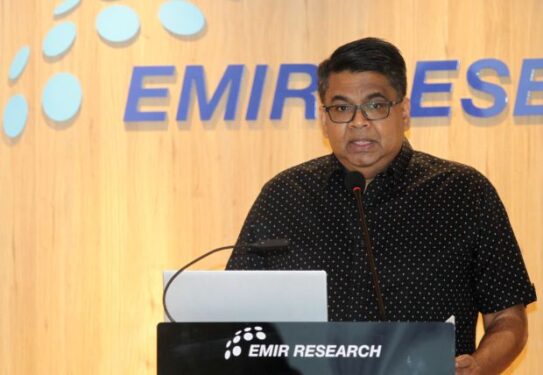 It has been a very educational and experiential journey from 2015, and I have learned much from this political voyage – both good and bad – that will surely help guide and shape me moving forward.
Perhaps a little wiser. Yes, I have been vocal, frank and brutal since 2015, not shying away from giving contrarian views but for the sake of the party and the sublime struggle then.
I have been aggressive – sometime plain aggressive and sometime persuasively aggressive – but this was done with the purest intention for the greater interest of the party.
Going forward, while the manhaj (methodology and/or platform) may be different, the maqasid (aims and objectives) will be the same based on the five aforementioned core principles – for a better Malaysia for the MANY, not for the few.
I must register my heartfelt appreciation to all party members whom I have worked with for many years, especially the formative years when we got together against all odds to rescue Malaysia from the kleptocrats.
I must record my appreciation to former party chairman Tun Dr Mahathir Mohamed who at one time entrusted to me many of the key responsibilities of building the party and the PH coalition prior to the 14th General Election (GE14).
It only stopped after GE14. That was indeed a "PhD" in politics in many ways which one day I hope to document it in a book. Certainly, there is also Tan Sri Muhyiddin Yasin, the party president, who in many ways understood me better than anyone else in the party given my passion and drive.
As they say, there are no "flux capacitors" to go back in time to change what has happened, likewise we don't know what the future really holds.
Yes, we can plan and there are plans. But one thing for sure, I will continue my pathways of speaking the truth to the powers that be without fear or favour based on data, science and economics.
That is indeed my DNA – sometimes it comes with a heavy cost – but in the greater interest of the greater objective of re-building this nation of ours for the MANY, not for few.
Datuk Wira Dr Rais Hussin Mohamed Ariff is the president and CEO of think tank EMIR Research.
The views expressed are solely of the author and do not necessarily reflect those of Focus Malaysia.