A FORMER editor-in-chief (EIC) of The Edge was charged with criminal defamation today over two news reports by the business paper on the penny stocks surge in 2020. 
According to news reports, The Edge Communications Sdn Bhd former EIC Ahmad Azam Mohd Aris claimed trial before two magistrates in the Petaling Jaya Magistrate's Court and pleaded not guilty to two charges. 
The charges were framed under Section 500 of the Penal Code for criminal defamation, which provides for a two-year imprisonment, fine or both. 
The Edge current editor M. Shanmugam was also named in one of the charges but could not make it to court as the charges were laid at the eleventh hour and he is abroad. 
Shanmugam was instead given a discharge not amounting to an acquittal (DNNA) until he returns to the country, following which he will be re-charged. 
Ahmad Azam and Shanmugam allegedly defamed DGB Asia Bhd, Trive Property Group Bhd, Metronic Global Bhd and MNC Wireless Bhd as well as Kua Khai Shyuan in the portal's reports, according to the charge sheet. 
On Sept 21, 2020, and April 12, 2021, The Edge reportedly named individuals who were allegedly involved in manipulating penny stocks on Bursa Malaysia in their reports.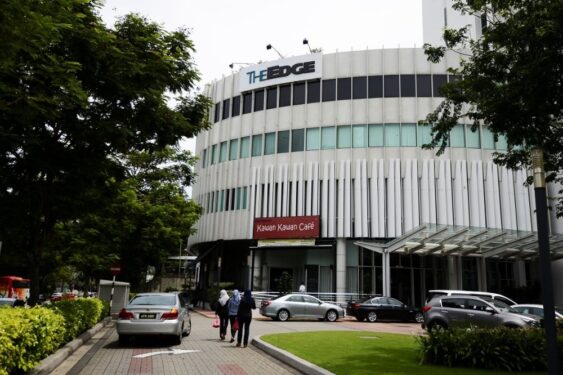 Earlier, deputy public prosecutors Siti Maryam Jamilah Md Kamal and Farhanah Fuad Mohamad Faiz proposed RM8,000 bail for each of Ahmad Azam's cases.  
However, Azam's lawyer, Rajsurian Pillai requested bail without surety or the lowest possible bail of RM500 to RM1,000 for his client. 
He argued that Ahmad Azam's alleged wrongdoings were not arrestable offences and that his client has been cooperating with the investigating officer (IO) all this while.  
Rajsurian added that Ahmad Azam was able to attend the proceeding despite only being informed of the charges at 6.30pm yesterday evening (Sept 12). 
Ahmad Azam was granted bail of RM3,000 in total. Case management was set on Nov 22. 
Magistrates Nurshahira Abdul Salim and Zhafran Rahim Hamzah heard the cases in separate courtrooms. – Sept 13, 2022 
 Main photo credit: Malaysiakini