FOLLOWING his expulsion from PAS supreme council, Datuk Mohd Khairuddin Aman Razali said that according to Islamic perspective, the unity between UMNO and PAS is a must, not optional.
In a Facebook post, he also said that it was up to party leaders to strengthen UMNO-PAS cooperation through the Muakafat Nasional (MN) charter.
"Our leaders are responsible to ensure the ties are enhances further, which involves over four million members.
"Those who attempt to discredit the cooperation are influenced by self-interest and material gains, and have not put Muslims' interest first," he was reported saying.
However, netizens were unimpressed with the former plantation and commodities minister's assertion and lashed out at him for his past transgressions when holding public office.

(What an idiot of a clergyman. Real unity comes from all Muslims irrespective of political affiliations. Do the Muslims only belong to UMNO and PAS? Imbecile. Only good at flirting with widows but no common sense)
User Xtrailme added:

(The PAS clergyman is acting like God. Everything compulsory and not is decided by him. It's nice getting loyalists who just nod and follow whatever it is the PAS clergymen spew on a daily basis)
Netizen PRU15 retorted:

(Everyone only have their self-interest at heart and are willing to ride on religion to the hilt, especially those bearded clergymen from the moon party. Hear them out but never trust them)
Khairuddin has been vilified by many during his stint as a minister under the Tan Sri Muhyiddin Yassin Cabinet following several issues, including COVID-19 standard operating procedure (SOP) breach.
Be wary of PAS, UMNO!
Under immense pressure, he started playing the race and religion card by calling for the Election Commission (EC) to redraw electoral boundaries to "protect Malay-Muslim dominance" in the country.
In Nov last year, he was defeated in a contest for a PAS supreme council seat. It was speculated that his defeat was triggered following a viral audio clip, allegedly featuring Khairuddin being critical of PAS president Tan Sri Abdul Hadi Awang for being close to Bersatu.
He was eventually got appointed to a supreme council seat but was booted out recently for unknown reasons.
On that note, user Mly Mofaz posted a cheeky retort saying:

(Talking about unity only after getting sacked).
Netizen Owen 25 remarked: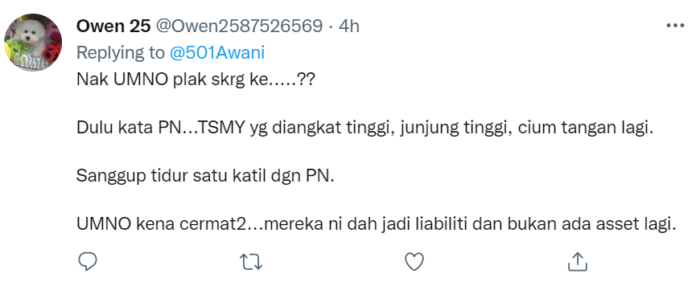 (Now you want UMNO? When Perikatan Nasional (Perikatan) was calling the shots, Muhyiddin was put on a pedestal, with all the hand kissing attached. UMNO should be careful…these people are a liability now, not an asset) – Jan 15, 2022