UMNO president Datuk Seri Ahmad Zahid Hamidi, who was acquitted of 40 corruption charges involving the foreign visa system (VLN) contract, said his acquittal vindicated him after long being subjected to public ridicule.
"Alhamdulillah, I am extremely grateful," he told reporters outside the courthouse after he was cleared of all charges against him this morning.
"I have been humiliated based on how (some) perceive (the case). I was punished by the court of public opinion. Praise be to God, this Friday, the justice system has upheld the truth."
Zahid also credited BN and UMNO's "struggle" for his acquittal.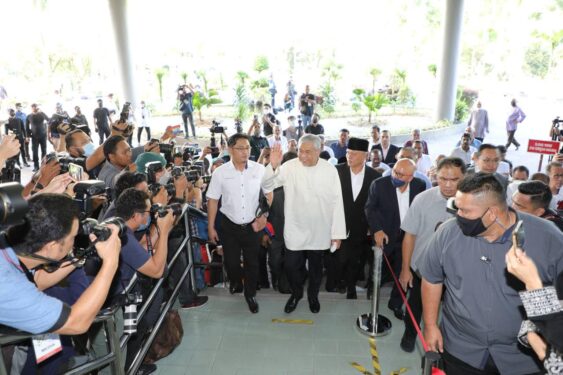 "As the BN (chairperson) and UMNO president, (this verdict) is the success of BN and UMNO's struggle," he said.
Zahid, 69, had been accused of 33 counts of receiving bribes amounting to S$13.56 mil (RM42 mil) from Ultra Kirana Sdn Bhd (UKSB) as inducement for himself in his capacity as a civil servant and the then home minister to extend the company's contract to operate One Stop Centres in China and integrated visa system better known as VLN (short for Visa Luar Negara).
The Bagan Datuk MP was also charged with another seven counts of obtaining gratification in various currencies from the same company for himself in connection with his official work.
In the course of his trial so far, these cash kickbacks are said to amount to S$1.15 mil, RM3 mil, CHF15,000 and US$15,000.
He still faces 35 charges in the Kuala Lumpur High Court for money laundering and criminal breach of trust involving millions from Yayasan Akalbudi and for accepting bribes for various projects during his tenure as the home minister. – Sept 23, 2022
Main photo credit: The Star