Letter to editor
Editor's Note: On Saturday (July 22), MCA's vice-president Datuk Seri Ti Lian Ker had chided Communications and Digital Minister Fahmi Fadzil for being "trigger happy or shooting at the wrong target" by cancelling the entire Good Vibes Festival (GVF) over the recent heated fiasco by British band The 1975 frontman Matt Healy on the previous night.
He further reckoned that asking the organisers to refund all tickets sold "is unjust to the organiser who will be incurring heavy losses in monetary terms and in their reputation".
Yesterday (July 23), a group of Malaysian lawyers led by Mathew Thomas Philip has initiated a pro bono class action suit on behalf of the local artists and vendors who were involved in GVF 2023 against The 1975.
Philip who named himself as the solicitor for the plaintiff has named the defendants as Matt Timothy Healy (lead vocalist and principal songwriter of the indie pop rock band), Adam Brian Hann, Ross Steward MacDonald and George Bedford Daniel.
 — 0 —
THE Good Vibes Festival which was due to run from July 21 to 23 included over 50 local and international music acts as well as the blood, sweat, desires and hard work of many more people (festival organisers, production, technical, logistics and event management teams).
Thousands of local music lovers and tourists had also travelled to Malaysia specifically to attend the festival.
The decision to cancel an entire festival based on one band's actions is extremely heavy-handed and reactionary.
This follows a dangerous recent trend in Malaysia of authorities shutting down long-standing arts and cultural venues and events based on the actions of individuals in extremely isolated cases – actions which hijack the given platform and do not reflect what these venues and events mean to Malaysians.
It is unjust to penalise the many musicians, cultural workers, event suppliers and audiences who were committed to working at and attending the Good Vibes Festival, and to make them pay – literally – for the actions of an individual or one band. As the Malay idiom goes, sebab nila setitik, rosak susu sebelanga (one rotten apple spoils the barrel).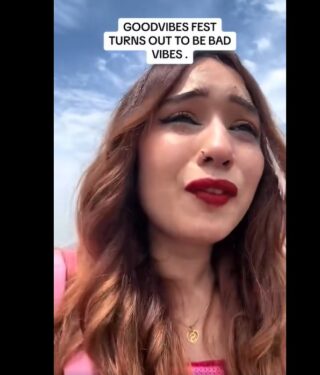 Ultimately, this is destructive to the arts, cultural, creative, entertainment and tourism ecosystems in Malaysia. It denies audiences the right to appreciate, enjoy and participate in the intrinsic value of music, live performance and the arts.
It directly and negatively affects the livelihood and work of already vulnerable cultural workers in Malaysia. It sends the wrong signals to regional and international visitors and investors. It contradicts the concept of "Malaysia Madani" (Civil Malaysia). It panders to and empowers the reactionary right-wing.
We strongly disagree with the minister's decision and call on him and this current government to halt this dangerous precedent – where one 'spontaneous' act or behaviour is now used to justify the closing down of events and venues.
Five Arts Centre
Kuala Lumpur
P.S.: Then 1975 has cancelled its shows in Taiwan and Muslim-majority Indonesia a day after Malaysia banned them from performing there over the incident of the band's frontman Matt Healy kissed a bandmate on-stage and criticised the country's anti-LGBTQ+ (lesbian, gay, bisexual, transgender, queer) laws.
"Unfortunately, due to current circumstances, it is impossible to proceed with the scheduled shows," the pop rock group said in a statement without elaborating.
 The views expressed are solely of the author and do not necessarily reflect those of Focus Malaysia.