WITH Dewan Negara president Tan Sri Rais Yatim urging the Education Ministry (MOE) to teach Malay customs and culture in schools, netizens took potshots at the veteran politician for his demand.  

Lauding Wee's response, user Richard Kho added: 

Two days ago, Bernama reported Rais as saying that the Government should teach Malay customs and culture in schools and universities, taking into consideration Article 160 of the Federal Constitution.  
He said this was to ensure that these practices be assimilated by the people to augment their own civilisation. 
"The thing that has been forgotten for decades is the part on practising Malay customs while we have been busy administering the country. 
"I suggest that the Government pay attention to this matter to ensure that Malay cultural values are not lost, especially among the younger generation," the former minister was reported saying.  
However, four days ago, the MOE told the Dewan Rakyat that 21,316 students did not complete their education and dropped out of schools between March 2020 to July this year.  
"Based on data from December 2020 and March, students who stopped schooling are 11,301 or 0.24% of students. 
"For the period of January to July 2021, a total of 10,015 students or 0.21% students were recorded stopping schooling," MOE stated in written reply.  
Last year, the "Family on Edge" survey, jointly commissioned by the United Nations Population Fund (UNFPA) and United Nations Children's Fund (UNICEF,) found that many poor students from the Klang Valley were dropping out from school at a disturbing rate due to disruptions brought by COVID-19.  
Misplaced priorities  
On that note, user Narayanan Manan urged the Government to get its priorities right and teach students skills set that will matter in the future and fix the COVID-19 ravaged economy.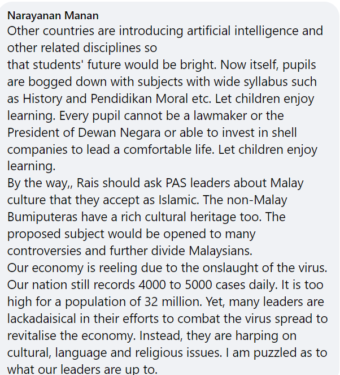 Netizen Suresh Raghavan, on the other hand, had a cheeky reply to Rais saying:

"Once this is understood, we can achieve a better Malaysia and better future." – Dec 9, 2021.  
Photo credit: BFM