FLOODS have hit Johor again following continuous heavy rain since Tuesday, forcing the evacuation of 1,591 victims in four districts to 21 flood relief centres (PPS) as of 8am today (March 1).
According to the Malaysian Meteorological Department, torrential rains at an alarming level is expected to continue until tomorrow (March 2) in the state.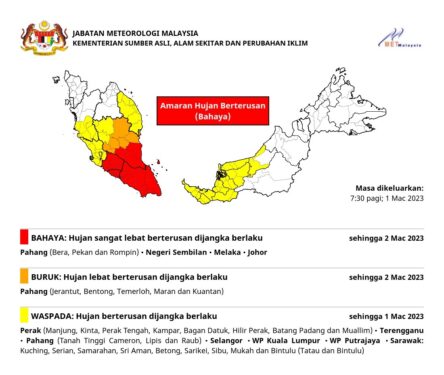 The State Disaster Management Committee (JPBN) reported that 21 PPS were opened in stages since 10.30pm yesterday, involving six each in the Segamat, Kluang and Johor Bahru districts, and three in Kota Tinggi.
"A total of 209 families were affected by the flood in Segamat, 162 families in Kluang, 131 families in Johor Bahru and 32 families in Kota Tinggi," it said in a statement.
In the meantime, the water levels in several rivers in Johor have exceeded the dangerous level, namely Sungai Segamat (38.32m); Sungai Lenik (13.74m); and Sungai Lenik in Ladang Chaah (6.73m) in the Segamat district.
Three rivers in the Kulai district – Sungai Sayong, Kampung Murni Jaya (18.93m); Sungai Skudai, Kampung Separa (18.8m); Sungai Pontian Besar, Kampung Melayu Bukit Batu (12.01m) – have also exceeded the dangerous level.
Other rivers that have exceeded the dangerous level are Sungai Skudai, Kampung Laut (5.6m) and Sungai Skudai, Kampung Pasir  (1.05m) in Johor Bahru; Sungai Kahang, Kampung Contoh (15.49m) in Kluang and Sungai Pulai, Kampung Ulu Pulai (2.85m) in Pontian.
Situasi banjir di Taman Aman, Kota Tinggi, Johor.

Ya Allah, air naik sangat pantas sehingga mencecah satu tingkat rumah.

Sumber: Orang awam

Salurkan sumbangan anda https://t.co/TPn68Zg3wh buat mereka yg terjejas akibat banjir. pic.twitter.com/IUbqkQfQox

— Malaysia For Syria (@malaysia4syria) March 1, 2023
Meanwhile in Sarawak, the number of flood victims in Kuching, Bau and Siburan districts has increased to 278 people, involving 65 families, this morning compared to 127 people (31 families) on Tuesday (Feb 28).
According to the Sarawak Disaster Management Committee (JPBN) secretariat, as of Wednesday (March 1) morning, six flood relief centres (PPS) have been opened to accommodate the victims.
They are at Surau Nur Hidayah Kampung Batu Kitang Jaya in Kuching, which accommodates the highest number of victims, involving 124 people from 26 families.
The other flood relief centres in Kuching district are at SJK Chuang Hua Batu Kawa (76 victims from 17 families) and Dewan Serbaguna Batu Kitang Jaya (22 victims from five families).
Meanwhile in Bau district, the flood relief centres are located at Dewan Datuk Seri Mohammad Hamdan, Bau Fire and Rescue Station (20 victims from eight families) and Balai Raya Kampung Opar (nine victims from two families).
In Siburan district, the PPS is at Dewan Serbaguna Kampung Mundai, with 27 victims from seven families.
Floods hit Kuching, Bau and Siburan resulting from continuous rain for the past few days. – March 1, 2023
Main pic credit: CNA