ICE CREAM entrepreneurs Edmund Tan and his wife Lim Shiew Li who founded Inside Scoop 'deserve' to laugh to the bank after offloading a big chunk of their business to integrated dairy product player Farm Fresh Bhd judging from reviews in the strictly-for-foodies Facebook food group The MAKAN Club.
"The flavours are of good quality. Service is personalised. Some are a hit, some a miss. Local flavours like onde-onde or cendol is too sweet in my humble opinion and down the other flavours," commented netizen Azmil Bo Ikram with Melissa Gooi concurring.
"I agree, there are hits and misses … and apparently, someone said they're better than BR (Baskin-Robbins), I beg to differ. I find it less creamy which is crucial for some of the flavours."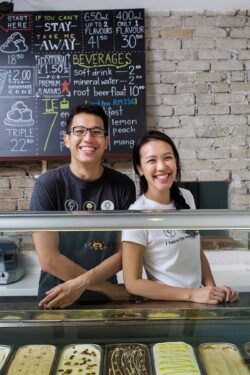 For context, Farm Fresh had on Feb 15 inked a share purchase agreement with Edmund Tan Jun Hua, Wu Chuang Yang (Derrick) and Harsh Rajpal to acquire 53% equity stake of The Inside Scoop Sdn Bhd (TISSB) for RM68.4 mil (via RM48.4 mil cash and the balance RM20 mil via issuance of 13.2 million new Farm Fresh shares at RM1.52 each).
Subsequently, the deal entails a 12% share subscription of new shares in the largest home-grown ice-cream chain in Malaysia with 37 outlets nationwide (as of Feb 15) for RM15.5 mil cash with the company eventually becoming a 65%-owned subsidiary of Farm Fresh upon completion of the proposed acquisition slated for 2Q CY2023.
"They deserved it! Really give the imported brands a run for their money. Inside scoop is consider cheap for the quality and taste. Kudos," opined Edmond C H Loo over the Farm Fresh acquisition as Santhirakala Ramasamy found herself in ninth heaven with Inside Scoop's Malaysian-inspired ice cream flavours.

"Their durian ice cream is like eating the real thing man," screamed Santhirakala with Jonathan Channt seconding: "So was the cempedak (jack fruit). Never tasted any ice cream that was as close to the actual fruit".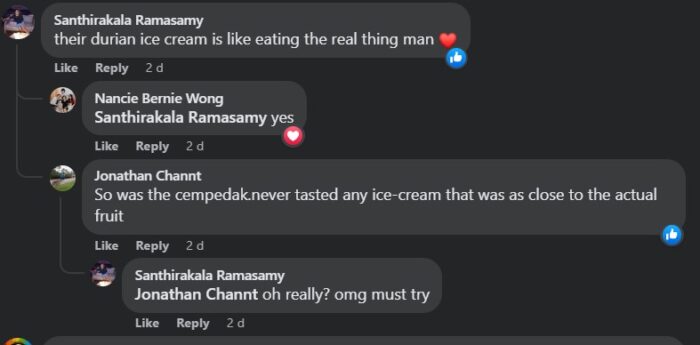 On the business side of the Inside Scoop-Farm Fresh deal, Cleo Cheah was spot on to suggest that "cashing out is the wise way to go for the local ice cream chain's founders. "Get your millions, leave the aches to the big boys … and start another artisanal set up!"
"Every start-up's dream!" agreed Doreen Teo.

Darren Chang praised Inside Scoop for its ability to maintain "consistent quality and having a solid game plan".
"My favourite ice cream joint especially (their) Ice Cream Bar. Well done!" penned the netizen while Fabian Yee added:
"That's what u get when u have two founders who are corporate trained working their asses off building up the business from scratch. Reminded me of another champion who started a humble car wash centre and grew it to a world-renowned detailing centre somewhere in PJ …"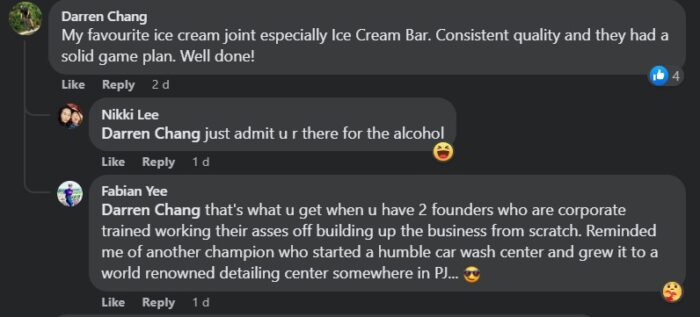 Perhaps hearing it from foodies is different from hearing it from research houses.
Even then, Maybank IB Research, too, is positive on Farm Fresh's proposed acquisition of Inside Scoop as the exercise "is earnings accretive (circa RM3.8 mil per annum) and offers various positive business synergies across the former's existing value chain with potential foray into the consumer packaged goods (CPG) ice cream market".
"With retail ice creameries as a new revenue stream, this offers various businesses synergies to Farm Fresh in the form of product cross-selling opportunities, regional store expansions and wider product distribution network capabilities," wrote analyst Jade Tam in a recent company update.
Added the research house: "As Farm Fresh has previously indicated its intention to penetrate the domestic CPG ice cream market once its new manufacturing hub in Bandar Enstek, Seremban is completed, Inside Scoop's founders will also be key assets in leading FFB's ice cream division." – Feb 19, 2023