FORMER senator and veteran broadcast journalist Datuk Ras Adiba Radzi has officially joined Bersatu after having left UMNO at the end of last year.
Together with former Putrajaya UMNO division deputy chief Datuk Tun Faisal Ismail Aziz, she received her letter of appointment from Bersatu president Tan Sri Muhyiddin Yassin during the Perikatan Nasional (PN) election machinery launch event in Taman Warisan Puteri Sikamat in Seremban last night (July 9).
Recall that Ras Adiba was appointed senator to represent people with disabilities in May 2020 during Muhyiddin's tenure as Malaysia's eighth prime minister (PM).
Elaborating on her decision to join Bersatu when there are other options available, she said she chose the party because she wanted to join its struggles for the people, especially in terms of the welfare of people with disabilities.
"For weeks, I've contemplated joining Bersatu. In fact, many of my friends have also invited me to join the party," revealed the 55-year-old Kuala Pilah-born social activist.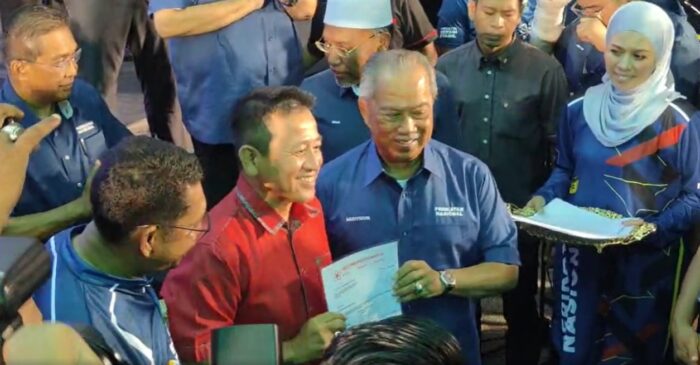 "After observing our country's politics, and as a Negri Sembilan native, I will give my absolute support in joining Bersatu to fight alongside PN under the leadership of TS Muhyiddin."
Ras Adiba also clarified that her participation in Bersatu is not for the purpose of being nominated for the state polls but for the sake of PN's struggle, which is for the coalition to return the country to its former level of success and well-being
"I will give 500% support to my friends in Bersatu to help ensure that PN can form a state government in this upcoming six state elections (on Aug 12)," Berita Harian cited her as saying.
Apart from Ras Adiba and Tun Faisal, other personalities who crossed over to Bersatu include former Negri Sembilan PKR women's wing head Azlimah Zamli and the party's former Jelebu branch head Mazmi Ahmad Yusof.
Also present at last night's PN election machinery launch were PAS vice-president Datuk Idris Ahmad, PAS secretary-general Datuk Seri Takiyuddin Hassan, Negri Sembilan PN chairman Datuk Seri Ahmad Faizal Azumu, Arau MP Datuk Seri Shahidan Kassim and Indera Mahkota MP Datuk Seri Saifuddin Abdullah. – July 10, 2023
Main pic credit: Berita Harian