FORCED to bite the bullet following his blunt remark over the participation of Malay Muslims in the recent Thaipusam procession, freelance preacher Mohamad Wadi Annuar Ayub has issued an official apology yesterday (Feb 12).
In his official apology statement, the Kedah-born preacher lamented his action for uttering the phrase "worshipping devil" which stemmed from an oversight to describe the Thaipusam celebration during a talk at the Al-Azim state mosque in Melaka on Feb 10.
"With that I apologise to all Hindus in the Indian community for my statement, and I wish to clarify that I have no intention to insult or offend any disciple of other religions," his official apology statement read.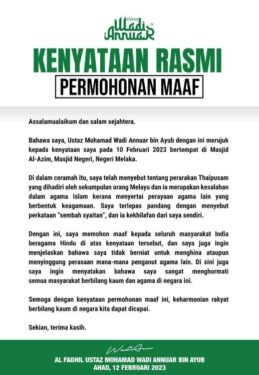 "I hereby wish to state that I wholesomely respect the multi-racial society and the religious diversity of our country. Hopefully with my apology statement, the harmonious relationship among the various multi-ethnical groups in the country can be preserved."
Wadi's apology could have been prompted by a police report lodged b M. Karthigeyen at the Muadzam Shah police station in Rompin (Pahang) on Feb 12 whereby the complainant wanted action to be taken against the 40-year-old freelance speaker so as to prevent a repeat of the incident and any untoward incident arising from a social media posting of his said talk.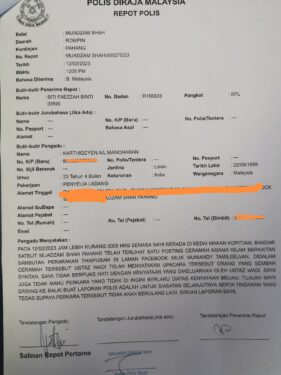 Interestingly, there was an 'intellectual exchange' between few netizens on the Utusan Online Facebook page whereby one of them, Azman Mamat, opined that it was not wrong for the ustaz to express his views in such a manner given that the said talk "was attended by 100% Muslims", only to be rebutted by fellow netizens.

"In other words, do you mean that one can be racist in the lecture but not outside? asked T Gopal Thirumalai.
"It doesn't matter 100%, nor even 200%. Still, one can't insult and denigrate other religions. Not to mention giving the title of "devil worship" to the religious ceremonies of other races. That's insulting and aggravating," mediated netizen Remy. – Feb 13, 2023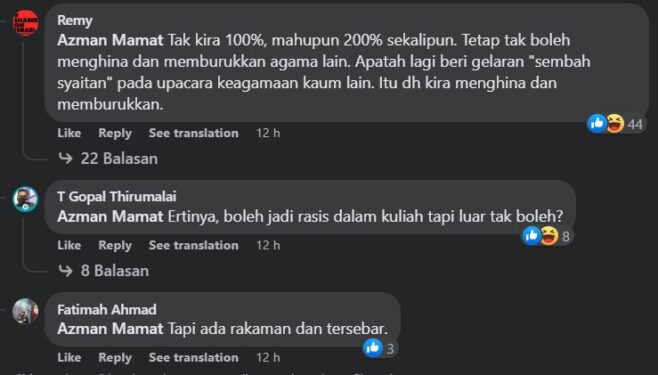 Main pic credit: Gempak.com