PEACE loving Malaysians are left speechless as to unsure whether to cry or laugh over the antic of intimidating medieval Islamic war costumes-clad Terengganu PAS Youth members marching on the streets armed with fake swords, spears and shields.
For context, Terengganu PAS Youth chief Mohd Harun Esa has shed light to the march in that it was part of a two-day PAS Youth "Himpunan Pemuda Islam Terengganu" (HIMPIT) gathering.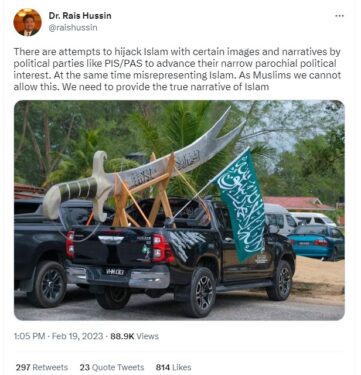 "Some used the sports theme and some even came with horses during this year's HIMPIT. There is no violence and provocation. In fact, it was very interesting to see representatives from each division displaying their own ideas," he clarified.
The programme was an annual event since 1991 and it was an assembly of the Islamist party's state youth machinery.
Below are some of the funniest, wittiest and probably scariest thoughts expressed by netizens in the Najib Razak Must Go Facebook page over yesterday's (Feb 19) event which Minister in the Prime Minister's Department (Islamic Affairs) Datuk Dr Mohd Na'im Mokhtar has described as "inappropriate and can give a bad image to Islam and the country".
(Comments with sense of humour)
Kelvin Yeoh: Hadi's Leprechaun Army.
Lokman Nol Hakim: Spartan army Malaysian version.
Kandeah Subramaniam: Green Chinese opera.
Hayashi Yu-Ki: What is this? Green KKK (Ku Klux Klan)?
Justin Khor: I thought last time they say cosplay is haram (prohibited) …?
Caecilia Eleanor: Where're the camels?
Tan Y H: Staying true to their roots to bring things back to medieval times … yet they still have love for Merc (Merecedes Benz).
Pauline Mumford: "Just imagine a tiger suddenly jump in front of them. Will they fight with the tiger or cabut lari (flee)?" to which Ch'ng Thean Aun replied: Harimau pun lari (The tiger ran away).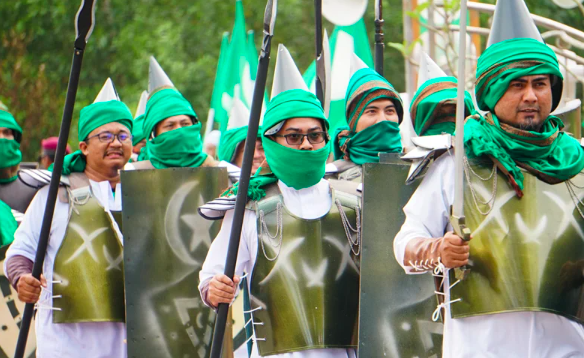 Meagen Lsm: OMG (Oh My God). Please don't spread this picture outside Malaysia. So embarrassing…
Nigel Lee: Let's keep PAS for as long as we can. Our country needs a sense of humour. Thank you, PAS, for always bringing laughter and humour to our beloved land. You have never once failed me by putting a smile and gig when I read what you do all the time. You are truly the greatest comedian show biz in town.
(Comments with sense of concern)
Hakim Abdullah: Sad … a travesty to their own representation and psyche. Poor leadership (referring to PAS).
Nabil Arif: What in the name of jihad (fight against enemies of Islam) is this?!
Kazuhiko Ichigo: Whatever you say, this doesn't resemble Islam, OK. This only resembles PAS. You can bash PAS but please don't drag religion in this.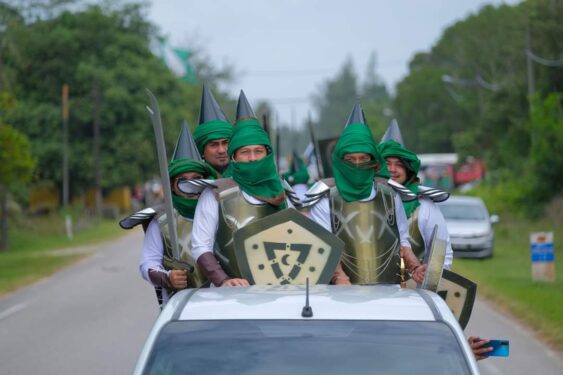 Ng Chee Leng: It is better to use that energy to do something worthwhile like gotong- royong (mutual cooperation) or bring smiles to people at orphanages/nursing homes, etc.
Tan Y H: I will have to give them credit (PAS) for being able to influence actual followers using such backward thinking. At every election, their supporters will ensure that they win certain states which is fascinating considering the day and age where information is readily available but they still manage to whitewash whatever that they've done.
Jenn Jenn: Wonder what will happen if DAP were to uphold such a display.
As Malaysians are left fascinated, PAS deputy president Datuk Seri Tuan Ibrahim Tuan Man has likened the controversial event to "Chinese opera where the actors also carry swords and spears", hence should not be blown out of proportion.
"It is better for us to focus our time and energy on more meaningful things such as tackling the rising cost of living, education, and social problems," the Kubang Kerian MP told the New Straits Times.
However, Terengganu police chief DCP Datuk Rohaimi Md Isa said while the organisers did inform the police regarding its march, the authorities were unaware about the replica of weapons used during the parade which has caused uneasiness and concerns in certain groups.
"The police will conduct preliminary investigations to identify offences in the programme and appropriate action will be taken," Rohaimi pointed out in a statement issued yesterday evening (Feb 19). – Feb 20, 2023