TO be a good Prime Minister – especially of a country that has long seen polarisation of its races – is not an easy task.
As Datuk Seri Anwar Ibrahim celebrates his 76th birthday today (Aug 10), his ears have to be constantly fixed on the ground in order for him to feel the pulses of the people.
FocusM attempted to randomly seek feedback from one representative each from every state. Their wishes are best summarised in the words of Ahmad Mazlan of Gombak (Selangor) who rejects fanning of the 3R (race, religion and royalty) sentiments.
His dream for the country is: "Malaysia for all Malaysians. Bring back Malaysia to its glory days."
Olivia Loh, daughter of former MCA Kaki Bukit state assemblyman in Perlis, the late Loh Yoon Foo, greets the Tambun MP in Malay: "Selamat Harijadi, PM!"
"Thank you for all the sacrifices, hard work and commitment to our beloved country. May God bless you with the best of health to continue to lead the people of Malaysia for many more years to come!"
From Alor Setar, Ayu Yusoff writes: "I would like to wish him …To stay strong and focus to his No. 1 mission … Bring back harmony for a better Malaysia … We will walk with you …Happy birthday, PMX!"
The owner of Quallys Nusantara Restaurant based in Penang adds: "I wish to serve him one day at Quallys."
Only one year younger than the premier, 75-year-old Edmund Chan of Penang wants PMX to lead Malaysia for the full five-year term until the next general election in 2027.
His fellow Penangite Dr Chuah Chia Choon writes: "Dear PM, happy birthday! May you continue to lift up the spirit of BERSIH and Reformasi for a better Malaysia! Press on!"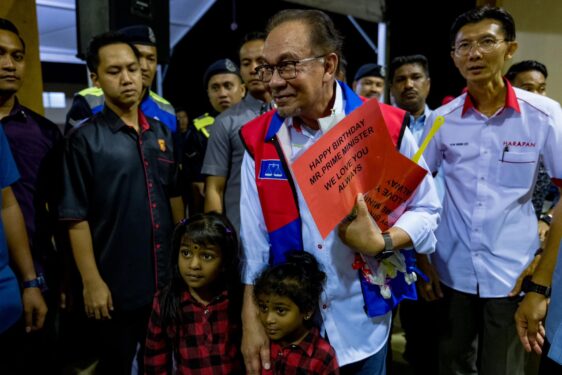 Health and well-being
Pharmacist Mimi Wong from Ipoh sends her greetings: "Happy birthday to our PMX DSAI! May God grant you good health, strength and determination to bring Malaysia back to what it should and can be; a country where every citizen is proud to belong, has equal opportunities be it for education, business, career or basic amenities like water and roads.
"My prayer is that come Aug 12, PH (Pakatan Harapan) and BN (Barisan Nasional) will win big so that the unity government can continue in its effort to rebuild our beloved country. God bless you!"
In wishing the PMX his birthday, Selangorians Dr Chew Weng Chee and wife Lew Lee Choo urged PMX to be steadfast and "continue on with your desire and dream of a corruption free clean government. We will uphold you constantly in our prayers".
Sathiavany Madhavan of Negeri Sembilan speaks on behalf of the animals: "Malaysia Animal Protection Society and all of God's creation under our care wishes Datuk Seri a blessed birthday with good health, strength and prosperity. We hope for a better Malaysia governed as one people, with inclusivity, sincerity and compassion."
Michael Loh, proprietor of Aunty Lee Restaurant in Melaka, wishes PMX good health. "We need him to look into the cost of living in Malaysia."
Neo Soon Siak of Batu Pahat, Johor gives PMX his heartiest wishes on this special day. "May God Almighty endow you with the protection, help, wisdom, boldness and resources, enabling you to bring our beloved nation to greater heights, overcoming the present economic, social and political turmoil."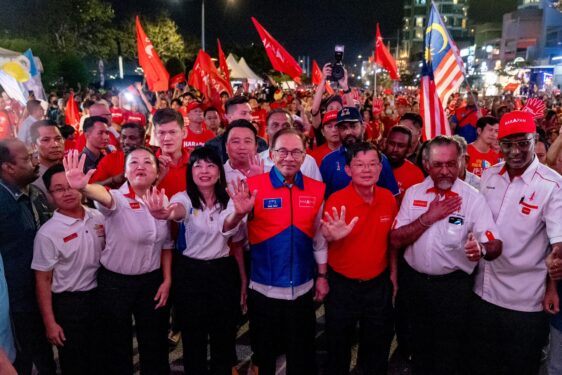 A Kelantanese, who prefers to be known only as N. H. Fathi believes that birthdays "denote success and happiness. Therefore, I wish PMX all the best in steering the nation to a vibrant and successful one for ALL Malaysians."
Hailing from Kuala Terengganu, former lecturer with the teachers' training college, 72-year-old Wrutheran Sinnadurai, is looking forward to a corruption-free country. "Corruption," he says, "is killing so many countries around the world. Your vision to eradicate it and to save Malaysia for the next generation is the most laudable initiative.
"You are a God-sent man for this era. I have been praying regularly for your health and your vision for Malaysia. Thank you, and may God's providence and protection be with you always!"
From Pekan, Pahang, Mabel Lim writes: "Blessed and Good wishes for your birthday, Mr PM. We all pray for your good health as well as peace and unity for Malaysia. Do not forget the Orang Asli community. Their needs especially in Pahang are the basic amenities such as electricity, clean water supply, roads and affordable housing."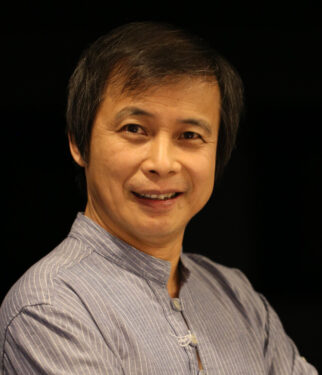 Medical practitioner Dr Philip Lyn from Sabah hopes that "PMX will keep to his Malaysia Agreement 1963 promises for Sabah and fulfil them in your tenure as PM."
Finally, from Sarawak, we have Dr Franklin Karong greeting PM Anwar, "Happy birthday, PM! May God bless you with good health and grant you the wisdom to lead the government of Malaysia. I admire your commitment to make Malaysia a peaceful and harmonious place for people from all races and religions."
Everyone has expressed their wishes, but what about the birthday boy himself?
FocusM tried to reach out to PMX's aide but probably due to his busy schedule with the state elections, there is no response. The only guess we can make right now is that PMX is eyeing a landslide victory for the PH-BN alliance in all the six states which go to the polls this Saturday (Aug 12).
This maybe his ultimate birthday wish. – Aug 10, 2023