I FULLY support the 10th Prime Minister Datuk Seri Anwar Ibrahim's policy of zero tolerance for racial and religious incitement to create and prolong political instability and by putting security forces on alert for possible unrest.
Editor's Note: This comes about as two-time premier Tun Dr Mahathir Mohamad will be one of the key speakers at the "Malay Proclamation" rally organised by Sekretariat Tanah Air slated for this Sunday (March 19) at the Impiana KLCC hotel in Kuala Lumpur.
The rally will discuss "matters surrounding the plight of the Malays" and "their losing of power in their homeland", among others.
Malaysia needs a reset to return to the original nation-building principles the nation's founding fathers have written in the Federal Constitution and the Rukun Negara (National Principles) – to unite Malaysia's plural society to restore our national goal to be a first-rate world-class nation with world-class political, economic, educational and social systems.
This is to fulfil Bapa Malaysia Tunku Abdul Rahman's aspiration to be "a beacon of light in a difficult and distracted world" and to demonstrate to the world Malaysia's "Unity in Diversity".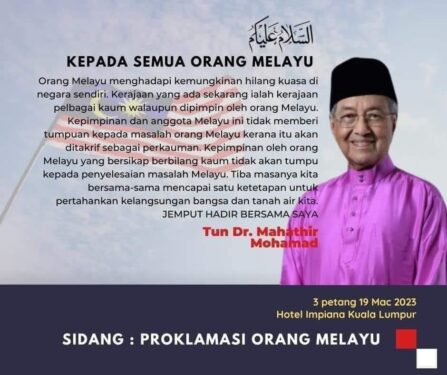 Certain political leaders have defied the 16th Yang di-Pertuan Agong's advice during the opening of the 15th Parliament on political stability and predicted the imminent collapse of the Anwar unity government.
Strong measures must be taken to ensure that there should not be another Sheraton Move political conspiracy or unconstitutional suspension of Parliament, and that a vote of confidence in Parliament is the only measure in Malaysia's system of parliamentary democracy to change a federal government.
As the Anwar unity government had overwhelmingly passed a vote of confidence in Parliament only in December last year, there must be no room for undemocratic and unconstitutional plotters to subvert parliamentary democracy.
It is a matter of grave concern to patriotic Malaysians that the divisive and toxic politics of lies, falsehood and fake news to polarise race and religious relations had increased after the 15th General Election (GE15) on Nov 19, 2022 – with the hurling of wild and preposterous allegations without any substantiation whatsoever.
Examples include the preposterous allegation that DAP is anti-Malay, anti-Islam, anti-Royalty, communist, promoting Islamophobia and the equally preposterous claim of low 60% Malay voter turnout as compared to 98% non-Malay voter turnout.
What is even more shocking is the completely senseless statement that the Malays in Malaysia are losing political power.
If Malaysia is to reset and return to the original nation-building principles written by the nation's founding fathers in the Federal Constitution and the Rukun Negara, we cannot allow untrammelled incitement along race and religious lines. – March 17, 2023