FORMER Prime Minister Datuk Seri Najib Tun Razak broke his silence on the Genting Hong Kong scandal and accused cybertroopers of trying to pin the blame on him.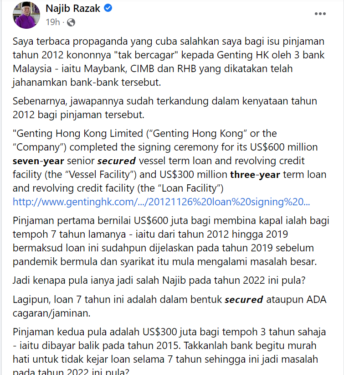 "We are talking about commercial banks here and the Finance Ministry never interferes in their day-to-day operations. They are free to provide loans to anyone including gaming businesses.  
"But if you people are still dissatisfied, then please seek clarification from the then-Maybank Investment Bank CEO who served as its lead arranger for the loans given to Genting HK.  
"The lead arranger goes by the name Tengku Zafrul Tengku Abdul Aziz," he said, in a Facebook post.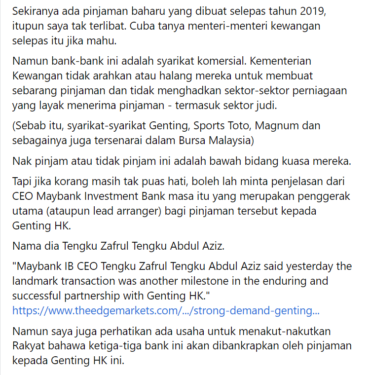 Two weeks ago, it was revealed that Genting HK filed a winding-up petition in Bermuda after the bankruptcy of its shipyard in Germany triggered US$2.78 bil (RM11.68 bil) in debt, forcing Asia's largest operator of sea cruises to be liquidated. 
Additionally, a US court has also issued an arrest warrant and ruled that the company's luxury cruise ship Crystal Symphony would be seized if it docked in Miami. This follows the filing of a lawsuit by Peninsula Petroleum to recoup US$4.6 mil in total unpaid fees for bunker fuel it had delivered to three of Genting Hong Kong's ships since 2017. 
Opposition Leader Datuk Seri Anwar Ibrahim then urged Finance Minister Tengku Datuk Seri Zafrul Abdul Aziz to explain how Genting HK could obtain RM2.5 bil in unsecured loans from three local banks in 2012. 
Yesterday, Zafrul said that providing unsecured loans were not unusual and banks had the freedom to grant such loans based on their risk appetite. 
In the case of Genting HK, he added the loans were approved prior to COVID-19, which gravely hurt the cruise operator's business.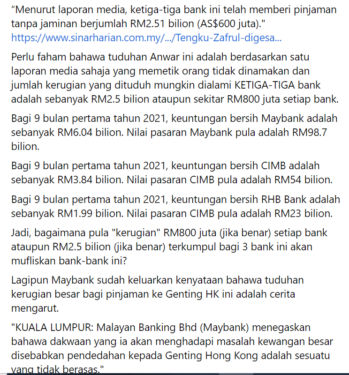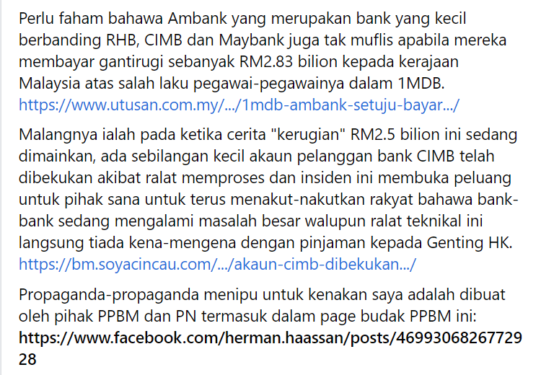 Loans paid off before 2019?  
Elaborating on the matter, Najib said that the first loan worth US$600 mil to build the ships was for seven years, from 2012 until 2019, which means it had been paid off in 2019, before COVID-19 started and the company started having problems. 
And he claimed that the seven-year loan was secured, which had a collateral attached to it.  
"The second US$300 mil loan was only for three years, which was paid back in 2015. Don't tell me the banks were so generous that it didn't attempt to seek to recover its loans for seven years until now?  
"Anyhow, if there were loans given after 2019, again I was not involved. Trying asking the finance ministers then," he remarked.  – Jan 30, 2022.