NETIZENS took to social media to lash out against Universiti Utara Malaysia (UUM) political analyst Kamarul Zaman Yusoff who mocked DAP MP Hannah Yeoh for wearing a headscarf during a visit to a mosque at her constituency.

(Why can't these Malay-Muslim politicians do the same? Help the non-Muslims who are in need. Instead, when Hannah does it, they get jealous and accuse her of many things. Halfwits will never change as long as UMNO and PAS are around.)
Netizen Ahmad Qurdani added:

(This guy is vegetable, not a professor. He can't even become an associate professor despite being a lecturer for years. Perhaps, Kamarul is not qualified to become an educator but he definitely needs a place in Tanjung Rambutan. He has an IQ (equivalent) of a carrot).
Recently, Yeoh was seen wearing a headscarf to attend a community function held at a mosque in her Segambut constituency.
The issue triggered controversy as Malaysiakini reported that even a former DAP leader, Dr Boo Cheng Hau was claimed to have criticised Yeoh for pandering to the majority.
Kamarul, on the other hand, mocked Yeoh by saying that it was nothing surprising that she had donned the headscarf to respect mosque etiquette.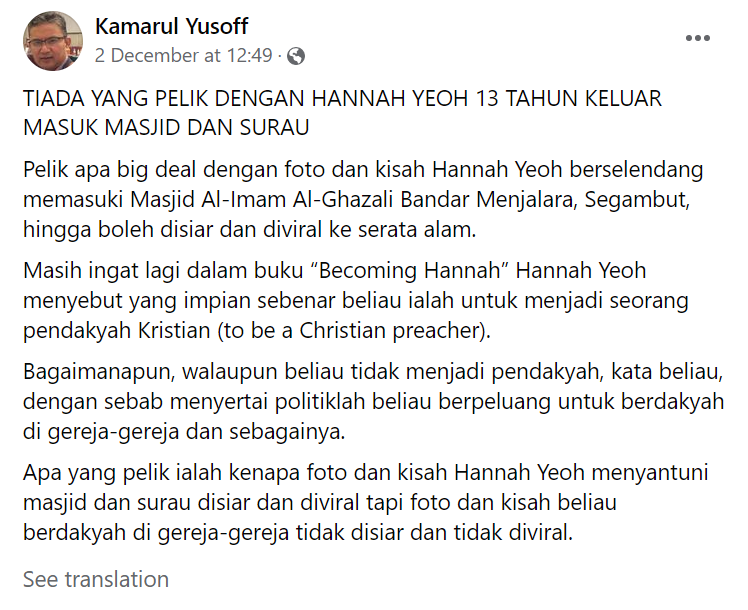 "What is puzzling to me is that no one was complaining about Yeoh preaching in churches. Bear in mind that in her autobiography, she had admitted of wanting to become a Christian preacher.
"But she joined politics as it will give her more avenue to preach Christianity in churches and other platforms," the academic was reported saying in a Facebook post.
Behaving like a jilted lover!
It is to note that Kamarul has been targeting Yeoh for years owing to her rising popularity among the electorate. He even accused the DAP lawmaker of attempting to spread Christianity using her book, Becoming Hannah, A Personal Journey.
On that note, user Jimmy said that Kamarul was an imbecile who likes to target DAP leaders and was inviting lawsuits to himself.

(This guy is a nincompoop. Nothing surprising about the latest attacks as he even questioned Steven Sim (DAP MP) for helping a Kelantanese boy. I guess this lackey needs to get sued until left only with his underwear, only then he will start using his head)
User Ahmad Qurdani later posted a cheeky reply, adding:

(I think he was in love with Yeoh but got rejected. This is what happens when you can't face reality. I pity this lunatic. Grow some brains, old man) – Dec 4, 2021