DAP chairman Lim Guan Eng has questioned the Human Resources Ministry's "sudden announcement" of the approval of some half a million foreign workers to work in Malaysia ahead of his "confrontation" between its minister Datuk Seri M. Saravanan and himself.   
The meeting between Saravanan, Lim and DAP lawmaker Ngeh Koo Ham, slated for Wednesday (Oct 5) at the minister's office in Putrajaya, was scheduled to debate the Government's "failure" to address the country's severe migrant labour shortage. 
In a statement yesterday (Oct 1), Saravanan's ministry said it had given approval for 541,315 foreign workers until Sept 26, of which 436,613 have already paid the levy. 
It added that taking into account the existing 1.3 million foreign workers and the approved quota, the number has almost met the industry's total demand for foreign labour (around 1.8 million). 
In a statement today, Lim said "drama-filled theatrics" is to be expected "from those who protest too much that they are competent or have no weaknesses" and who "refuse to see the reality on the ground" of businesses suffering from manpower shortages.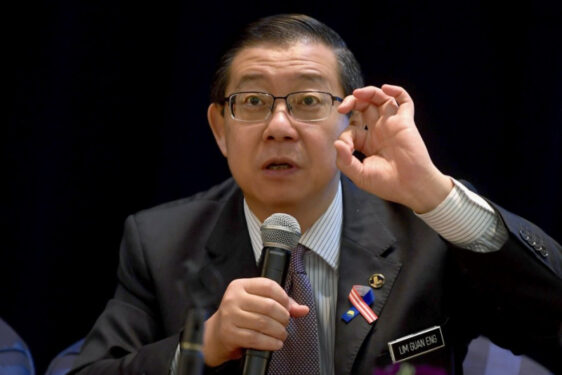 "The reality is that the contractors in the entire construction industry contradict and dispute the Human Resource Ministry's false claim that the foreign labour shortage has been resolved," the former finance minister said.   
He cited a recent joint press statement by the Master Builders Association Malaysia (MBAM), on behalf of a group of construction associations, which said that contractors' cash flows are getting tight due to slow progress at sites as a result of the labour shortage.    
MBAM had also urged Prime Minister Datuk Seri Ismail Sabri Yaakob to intervene in reverting the foreign worker entry process to the Construction Labour Exchange Centre Bhd (CLAB) to handle foreign workers' issues without the participation of the Human Resource Ministry to simplify the entry of foreign workers.  
CLAB is an organisation established in July 2002 by the Construction Industry Development Board (CIDB) to bring in and redistribute foreign workers for companies and organisations in Malaysia.  
"Lack of action appalling" 
"Queuing in person at the ministry to get quota applications for foreign workers should be a thing of the past," MBAM said on Thursday (Sept 29), adding: "The lack of action to really solve this problem is appalling." 
Lim said it was clear that the ministry has failed to deliver its promise to speed up the employer interview process at one-stop centres (OSCs) according to zones and states or give approvals within one week under the Foreign Workers Centralised Management system (FWCMS).  
"Saravanan's deafening silence on the call by contractors in the construction sector that the Human Resource Ministry be replaced and excluded from handling foreign workers cannot cover up the severe foreign labour shortage in Malaysia," he added.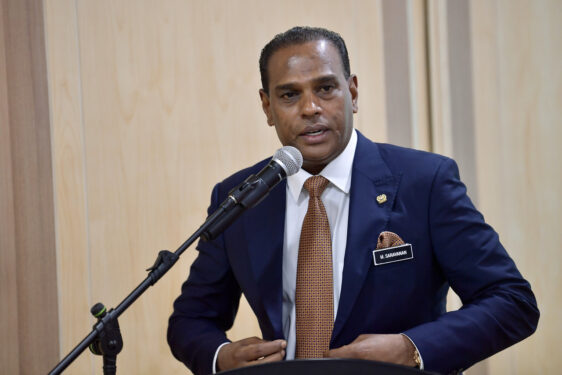 The other associations supporting MBAM's call are Persatuan Kontraktor Bumiputera Malaysia (PKBM), Persatuan Kontraktor Melayu Malaysia (PKMM), Gabungan Kontraktor Bumiputera Wibawa Malaysia (GBC), Persatuan Kontraktor India Malaysia (PKIM), Royal Institution of Surveyors, Malaysia (RISM), Real Estate and Housing Developers' Association (REHDA) Malaysia, Association of Consulting Engineers, Malaysia (ACEM), Pertubuhan Akitek Malaysia (PAM) and the Malaysian Institute of Planners (MIP).  
Lim has been going after Saravanan for several weeks now over the current foreign worker shortage, which has impacted the palm oil, electrical and electronic products (E&E), plantation, glove and auto parts industries, among others. 
He previously spoke about the impact of the labour shortage on mamak restaurants as well, which has seen thousands closing their doors as a result. 
Following the previous 12% success rate of foreign workers entering Malaysia to help plug labour shortages, Lim last month demanded that Saravanan resign over the matter, claiming he was "sleeping on the job". 
This led Saravanan to challenge Lim to scrutinise and find flaws in his ministry's efforts to overcome the acute shortage of workers in the country, adding that the DAP chairman should resign if he is unable to find anything wrong and vice versa.   
Saravanan later extended an invitation to Ngeh as well, who has been vocal about the matter too. – Oct 2, 2022   
Main photo credit: Bloomberg