DATUK Seri Wee Ka Siong has been lambasted by DAP chairman Lim Guan Eng over the death of a helicopter pilot yesterday (Sept 12) who the transport minister initially claimed was found alive at the crash site. 
This has since been rebuffed by Perak police chief Comm Datuk Mohd Yusri Hassan Basri, who said the deceased, Hong Kong-born Richard Chan, was killed in the helicopter crash near Bidor, Perak.  
In a brief statement on Twitter, Lim said Wee should not "embarrass Malaysia by giving fake news".   
"First, he claimed that the helicopter pilot of the Eurocopter EC120B was found alive. Then he changed his story to say that the pilot was found alive but later succumbed to his injuries. 
"The Perak police chief disclosed the fact that the pilot was found dead on the spot at the crash site in Bidor, Perak. Clearly, he is more qualified in doing his job than Wee.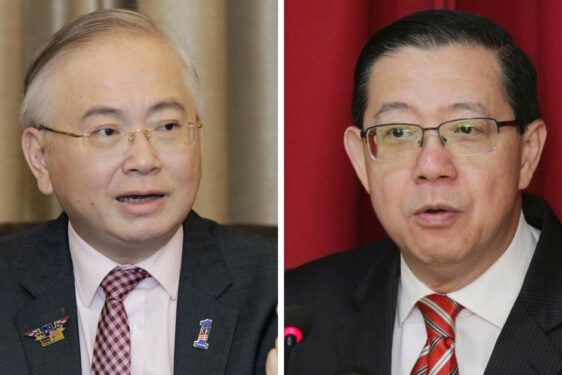 "Can Wee please explain his grievous error?" Lim asked.  
As of press time, Wee has not made any further statement on the matter, the latest being a re-share of the Civil Aviation Authority of Malaysia (CAAM)'s account of yesterday morning's search and rescue (SAR) mission.  
On Sunday (Sept 11), the EC120B helicopter Chan was flying – operated by Heli Outpost Sdn Bhd – was reported missing after embarking on a private flight from Subang, Selangor, to Ipoh shortly after noon. 
It had taken off from Sultan Abdul Aziz Shah Airport at 11.37am and was supposed to have landed at the Sultan Azlan Shah Airport at 12.37pm. At 12.16pm, however, it lost radio contact with the Kuala Lumpur Air Traffic Control Centre (KLATCC).  
The KLATCC's radar system also recorded a sharp loss of altitude of the helicopter in less than one minute. 
According to the CAAM, the on-duty air traffic control officer tried to make contact with the pilot but no distress call was made. 
"He was found alive" 
Yesterday morning, Wee said he received confirmation from CAAM that the Eurocopter wreckage and Chan (who he said was still alive) were found near Kampung Kenangan, Bidor, at 8.18am.  
However, shortly afterward, state police announced he had died, with news reports suggesting Chan even lost consciousness prior to arriving at the hospital.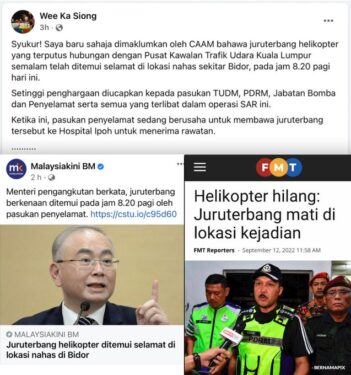 In a later Facebook update, Wee reiterated that early indications showed the victim was alive at the time the crash site was detected at 8.18am. 
"However, we were informed that the victim had reportedly (sic) lost consciousness during the rescue and was attended to by rescuers." 
It is interesting that Wee used the word "reportedly", which indicates the information came from a news source and cannot be independently verified. 
It is confusing as well that Wee said this as in a video statement accompanying the same Facebook post, he said Chan lost consciousness while on the way to the hospital – not during the SAR – and died upon arrival. 
Wee further quoted an Royal Malaysian Air Force (RMAF) report that said Chan was "still safe" when he and the wreckage were found at 8.18am. 
Even so, Wee said his ministry is still waiting for the hospital to confirm the cause and time of Chan's death.  
After being found at the crash site, the victim was transported from the wreckage to a Royal Malaysian Air Force (RMAF) helicopter, which landed at the Anderson School Field at 10.30am.  
Chan was then ferried by ambulance to Raja Permaisuri Bainun Hospital in Ipoh, where he was officially pronounced dead.  
The Transport Ministry's Air Accident Investigation Bureau is currently investigating the case in accordance with Part XXVI of the Civil Aviation Regulations 2016. – Sept 13, 2022
Main photo credit: The Star