PAS president Tan Sri Abdul Hadi Awang has reiterated his claim that there will be a change in the federal government if Perikatan Nasional (PN) wins all six states in the forthcoming state polls on Aug 12.
As such, it is crucial for the people especially the Malays to ensure higher voter turnout to give PN the victory in the six states, namely Pakatan Harapan-led Selangor, Negri Sembilan, Penang and the opposition states of Kedah, Kelantan and Terengganu.
"The six state polls are very important for PN and the coalition must win big. God willing, we will be ensured victory in Kedah, Kelantan and Terengganu but we want to win in Penang, Selangor and Negri Sembilan as well," the Marang MP said in his speech at the Munajat Akbar and PN Best tour in Sendayan, Negri Sembilan last night (Aug 7).
"If we win, there will be a change in 000, which means there is great necessity for the people to cast their votes."
Hadi further lamented that based on data from the previous elections, the voter turnout among other races had previously indicated higher voter turnout of about 90%.
This is, however, not the case for the Malays where voter turnout among the group is only about 70%.
"Many of them did not come out to vote [or] did not want to vote. They are unaware that voting is a form of 'political power' and by not voting, we lose our political power," he asserted.
"Whichever parties win the polls will ascend to power, and this is why the Malay Muslims as well as non-Muslims who are not extreme must support PN and make such a change."
The event in Sendayan was also attended by state PN chairman Datuk Seri Ahmad Faizal Azumu, who is also the Bersatu deputy president.
Recall that Hadi had made similar claims at the PN Best mega tour in Dataran Darul Aman in Kedah on Aug 2.
Meanwhile, speaking about the possibilities of seeing a change of government on federal level if PN wins the six state polls, Faizal said there are legal processes that could allow this to happen.
"There are many ways to go about this, and although the country has the anti-party hopping law, there are legal processes that can be taken to allow for a change in government.
"The same can be said for other state governments, that there are legal processes according to the Constitution that can be done."
Referendum from the people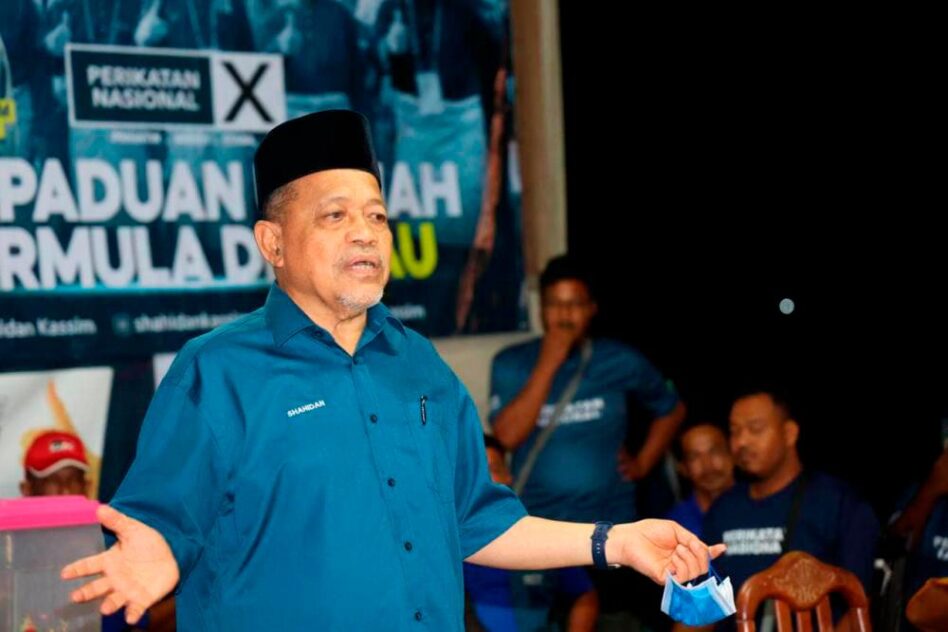 The claim is further echoed by Datuk Seri Shahidan Kassim, with Astro Awani quoting the Arau MP as saying a win in the six states will prove that voters are rejecting the Pakatan Harapan-Barisan Nasional (PH-BN) federal government.
"God willing, PN will win all six states and if Loke thinks that it won't change Putrajaya, well just be patient.
"Patience is a virtue. Just wait, after we win the six states, remember this August, bye-bye," he reportedly said when speaking to reporters after campaigning in Kuala Terengganu.
The UMNO-turned-PAS leader was responding to DAP secretary-general Anthony Loke Siew Fook who previously stressed that the state polls will not have any bearing on the federal government standing.
Last week, Loke had accused PN of making an irresponsible claim and said claims that the opposition will topple the current government if it registers huge wins in the state polls was proof that PN had run out of political ideas and was resorting to issuing misleading statements to confuse voters. – Aug 7, 2023
Main pic credit: Malay Mail