PAS president Tan Sri Abdul Hadi Awang has found himself in hot soup again, this time over his recent claim that Pakatan Harapan consists of "communists" and "rejectors of the Yang di-Pertuan Agong". 
Incumbent Kepong MP Lim Lip Eng noted that Hadi did not provide any proof or basis for his "seditious" remarks, some of which were rehashed on the former Marang MP's Facebook account yesterday (Oct 15). 
In listing reasons for the Islamist party's position against accepting Pakatan, Hadi alleged: "In Pakatan, there are those who oppose Islam, lesbian, gay, bisexual and transgender (LGBT) persons, communists, traitors, those who reject the King, bribe-givers and bribe-takers." 
He added: "Bribe-givers and bribe-receivers are found in Pakatan even though they say they are against corruption. (Besides that), they get the contribution of people who give bribes and they don't fight against LGBT and evils; they only focus on UMNO's corruption." 
In a statement today, Lim dared Hadi to lodge a police report within the next 48 hours if the latter believes that Pakatan harbours communists and anti-monarchists.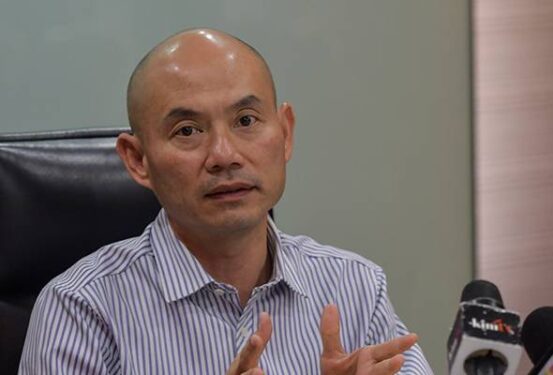 "This is because this involves a very serious offense and a treacherous act of rebellion against the Yang di-Pertuan Agong and the country," the DAP Kuala Lumpur secretary explained. 
However, Lim said if Hadi fails to lodge a police report over the matter, then the latter has clearly lied and should apologise to Sultan Abdullah Sultan Ahmad Shah and the rakyat. 
"What these PAS leaders are saying, it's as if they are telling lies that can create a disharmonious atmosphere in the country," he noted.  
"Truthfulness leads to paradise, falsehoods take you to hell" 
Lim further quoted a scriptural verse from the Sahih al-Bukhari, which states: "Truthfulness leads to righteousness and righteousness leads to paradise. And a man keeps on telling the truth until he becomes a truthful person.  
"Falsehood leads to al-fajur (ie wickedness or evil-doing), and this leads to the (hell) fire. And a man may keep on telling lies till he is written before Allah (as) a liar," the verse continues.    
Two months ago, Hadi came under fire over his claim that non-Muslims and non-Bumiputeras are the "roots of corruption" in Malaysia. 
After much public anger and police reports lodged over the matter, Bukit Aman's Classified Crime Investigation Department (CCID) opened an investigation under Section 505 (c) of the Penal Code for issuing statements likely to incite the public and Section 233 of the Communications and Multimedia Act 1998 for improper use of network facilities or services. 
Hadi was also questioned at the federal police headquarters later on.  
Meanwhile, Lim slammed Hadi for saying PAS cannot work with Barisan Nasional (BN) as the coalition was "tainted with corruption", saying the timing of this was questionable since the revelation came on the heels of Parliament's dissolution on Monday (Oct 10).  
At the same time, Lim questioned the candour of PAS leaders to "kick the horse as hard as possible" after "riding UMNO". 
During a sermon on Friday (Oct 14), Hadi was quoted by The Malaysian Insight (TMI) as saying: "We decided to reject those who give and take bribes and work with Perikatan Nasional (PN) instead, even though it will be tough." 
Lim said it was strange that Hadi never brought this up before when PAS "conspired" with BN parties so it could be part of former prime minister Tan Sri Muhyiddin Yassin's Cabinet and the subsequent Datuk Seri Ismail Sabri Yaakob Cabinet. Both administrations saw senior BN component party leaders holding Cabinet posts.  
"Therefore, I urge the Royal Malaysian Police Force (PDRM) and Malaysian Anti-Corruption Commission (MACC) to immediately take evidence from Hadi because his party has been together with BN in Government and it is very likely that Hadi has information about corruption offenses involving BN ministers and BN parties," he said. – Oct 16, 2022  
Main photo credit: Utusan