MUSLIMS who oppose DAP's extreme secularism concept and the Malaysian Malaysia slogan should not be deemed as "racially fanatic or racists".
In fact, they are doing the right thing for any effort to implement such wrong and tyrannical concepts is a huge betrayal of Islam, the Muslims and the country, according to PAS president Tan Sri Hadi awing.
"The concept of Islam being fair to all has been sufficient for non-Muslims who are allowed to be citizens in this country, hence there shouldn't be attempts to remove the rights of Muslims in their homeland," penned the cleric in his latest segment of Minda Presiden PAS (PAS President's Insights).
"(But secularism) is said to support the people's democracy by protecting the rights of religious minorities based on the ancient democratic concept of vox populi, vox dei (voice of the people is voice of God)."
Unfortunately, Hadi claimed that both concepts (extreme secularism and Malaysian Malaysia) are prevalent in the unity government with DAP dominating the alliance as "the largest party in terms of numbers alongside (other) extreme non-Muslim groups and liberal Muslims in PKR".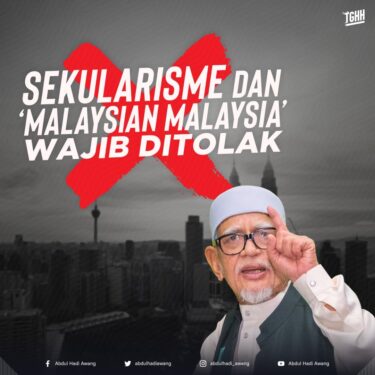 "Muslims must oppose these two wrong concepts. DAP has shown opposition from the very beginning to any change to Islam (in the Federal constitution) and continues to defend the secularism it adheres to as stated in its party constitution," opined the Marang MP.
"Strictly speaking, their struggle is to continue the colonial agenda. Pakatan Harapan (PH) has been dominated by DAP which has never budged in defending the wrong secularism in its constitution."
Hitting out at DAP's Malaysian Malaysia slogan, Hadi said the Malays cannot accept such concept which espoused the belief that non-Malays who have been granted citizenship are also entitled to the same privileges even though Article 153 in the Federal Constitution has stipulated "a few privileges for the Malays and Bumiputera".
"This concept cannot be accepted by the Malays and Bumiputeras at all. Any act of accepting such concept is akin to allowing themselves to become like the Red Indians in North America, the Maori in New Zealand and the Bush People in Australia. These people have all been sidelined (dianaktirikan)!"
In Hadi's view, what is more saddening today is that UMNO can no longer be relied upon to champion the rights of the Malays and Muslims who are the majority in the country.
"Therefore, the country and the people are in a state that is more adrift than that of the previous UMNO-led BN (Barisan Nasional) government. More so, UMNO has changed the direction of its struggle to befriend DAP and PH in the pursuit of saving its leaders' own skin, position, wealth and power," he lamented.
"Now, we are facing UMNO which has abandoned its original struggle by willing to conspire with DAP in PH because it wants to save itself after losing in GE15 (15th General Election) and in pursuit of positions in the government regardless of who becomes the government." – June 20, 2023