WITH a diction rich in figure of speech coated by vivid literal description, PAS president Tan Sri Abdul Hadi Awang has painted a picture depicting the pathetic state of Malay Muslims who are weakened without adequate political power to chart their destiny despite being the majority in the country.
The Marang MP hinted that such situation is unacceptable given that one of the purposes that human beings are created in this world is for them to engage in politics by governing the affairs of the world within limitation in addition to worshiping the Almighty.
"Today, we witness the weakness and humiliation of Muslims even though their number is now more than one billion and even as Allah SWT has blessed the earth with an abundance of fruits and crops," he rambled on in his PAS President Insight posted on his Facebook page.
"They are in a very weak situation because they have no political power as a result of abandoning God's great trust in them."
As such, the cleric observed that Muslims are tormented by a weak and tyrannical government, rising prices of necessities of life, unemployment, forced to work for others and are subject to various social ills.
"Not only that but that the enemies of Islam dare to burn the holy Quran in addition to extorting the wealth of our land and energy," he lamented.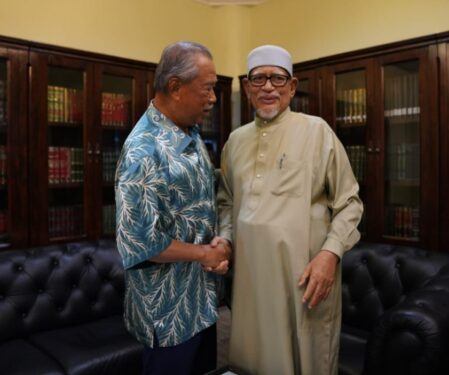 "The Prophet SAW is right that this happens when Muslims are ruled by those who are evil, like to lie, accept bribes, and commit various manifest and hidden vices. All this is the result of Muslims abandoning their political duty to elect leaders to gain the power of Islamic leadership while non-Muslims race to vote to usurp political power."
More specifically, he contended that there is a difference between the cooperation of PAS within the Perikatan Nasional (PN) coalition which is dominated by the Malay Muslim leadership and that of Pakatan Harapan-Barisan Nasional (PH-BN).
"Our cooperation takes into account the Prophet SAW who united the Muslim and non-Muslim Arabs who are not extreme in order to implement the concept of justice for all who have the principle of faith and morals," Hadi pointed out.
"On the contrary, PH's cooperation with UMNO is liberal and pragmatic – one that has drifted away from its principles of struggle after having ended up 'kowtowing' to DAP as the largest party."
Added Hadi: "Bear in mind that this is an extremist party with its secularism and Malaysian Malaysia ideology which is separated from religion and can eliminate the Muslim Malay leadership." – July 13, 2023