INCUMBENT Segambut MP Hannah Yeoh has retracted a recent tweet she made in which she remarked that a former Kedah state executive councillor looked like former first lady Datin Seri Rosmah Mansor.  
This after UMNO Puteri and Youth leaders Zahida Zarik Khan and Alfie Zainal accused the DAP leader of "face-shaming" fellow party leader Datuk Suraya Yaacob, a claim that Yeoh has staunchly denied.  
In a tweet yesterday (Oct 14), Yeoh said going by the duo's logic, she was rude for pointing out similarities between other women and the wife of imprisoned former prime minister Datuk Seri Najib Razak. 
"Alright then, I retract my tweet about Suraya's face being similar to Rosmah's," the former women, family and community development deputy minister said, adding: "I do not want to prolong this issue." 
Yeoh also took down the allegedly offending tweet, which she posted following Suraya's resignation on Thursday (Oct 13) as Kedah public works, energy, water supply and resources committee chairwoman.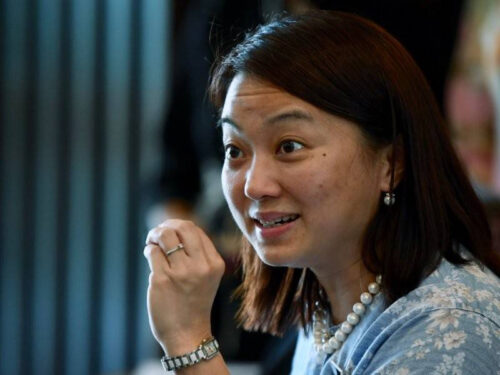 While no reason was given for the decision, the Sungai Tiang assemblywoman's resignation from her exco position came about amid speculation that the Kedah state assembly would be dissolved soon to make way for concurrent state and federal polls. 
Malaysia is currently gearing up for the 15th General Elections (GE15) after Parliament was dissolved on Monday (Oct 10). Caretaker prime minister Datuk Seri Ismail Sabri Yaakob has since urged the state Governments to dissolve their state assemblies as well. 
Commenting on a Malaysia Gazette poster of the news of Suraya's resignation, which featured her face, Yeoh remarked: "A quick glance, I thought that was Rosmah and wondering what she was doing in Kedah." 
In response, Zahida said Yeoh was "biaDAP" (a play on the combination of the Malay word for rude, biadab, and DAP), adding that despite differences in political ideologies, shaming each other was "disgusting". 
BiaDAP!

'FaceShamming' daripada seorang berpangkat YB, juga bekas Timbalan Menteri Kerajaan PH.

Biarlah berbeza idologi politik, namun tindakan mengaibkan lebih lebih lagi sesama wanita adalah satu tindakan yang amat menjijikkan. pic.twitter.com/Xj4KxqTJDQ

— Zahida Zarik Khan (@ZahidaZK) October 14, 2022
"Punish DAP during GE15"  
The UMNO Puteri chief also urged voters to "punish" Yeoh's party by not voting for DAP during the upcoming 15th General Elections (GE15). 
Alfie, on the other hand, who is also the UMNO Subang Youth chief, tweeted: "Despicable face shaming by a so-called progressive women-centric politician. 
"Is DAP so bankrupt of ideas that they have to resort to this kind of low blow?" he asked, adding: "Another example of DAP and Pakatan Harapan having no constructive ideas for our economy and that they are resorting to gutter politics."  
Responding to Zahida, Yeoh yesterday said she never "face-shamed" Rosmah, and asked: "What's the problem if others look like Rosmah, Najib or Zahida?" 
"I do not understand why UMNO folk are getting upset if people look like Rosmah," she remarked.
Meanwhile, Alfie had a field day with Yeoh's retraction, and ironically enough, mocked her face in the process:  
So Hannah #faceshamer has deleted her tweet

She didn't mean any face shaming when she posted the pic of YB Suraya comparing her to Rosmah

It's all water under the bridge now

Hannah Yeoh we believe you

Guys let us give her back her women's right champion title #malaysia https://t.co/cBauNAGUhQ pic.twitter.com/Nnc8jYlgmU

— Alfie Zainal (@alfiezainal) October 14, 2022
Netizens, however, chided him for "purposely twisting statements" to "mislead grassroots", and criticised him for controversial statements he himself made in the past, including one where he associated prominent Chinese and Indian Malaysian medical experts as hailing from "migrant families". – Oct 15, 2022