PAS has through its mouthpiece HarakahDaily taken a pot shot at the Pakatan Harapan (PH) coalition for defending DAP which it labelled as the "true extremist" while blaming PAS and Bersatu who are component parties of Perikatan Nasional (PN) for stoking the "fire of hatred" among the multi-racial and multi-religious Malaysian society.
In fact, the Islamist party further solidified its claim that DAP is the real perpetrator who is igniting extreme racial and religious politics all this time behind the scenes.
"Because of that, DAP was rejected by the majority of Malaysians due to their clearly rotten anti-Bumiputera, anti-Malay and anti-Islam agenda," wrote editor Izwan Abdul Halim in a recent HarakahDaily editorial.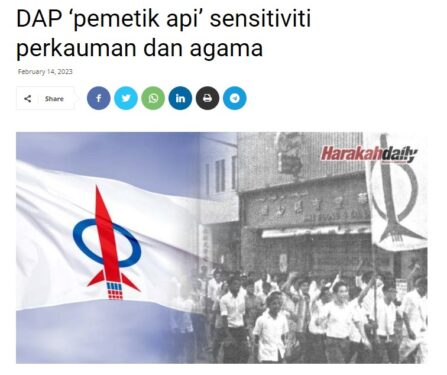 "This is actually the idea of 'Malaysian Malaysia' that has been driven by DAP since the beginning of its establishment in the Federation of Malaya. DAP has never softened, let alone deleted the agenda that the party first raised over 50 years ago."
The PAS mouthpiece went on to claim that DAP has all these whiles been challenging the rights and special privileges enshrined in the Federal Constitution for the Malays and Bumiputeras.
"DAP has been subtly making demands in the name of equality alongside the interest other races. Therefore, DAP is always in a state of antagonising the Bumiputeras by instilling hatred towards the Malays in the eyes of other races," HarakahDaily pointed out.
"Their fuelling of hatred even went to the extent of touching on Islamic affairs and that of the Malay rulers which they shouldn't have interfered with."
The PAS mouthpiece further accused DAP as never fought for the interests of other races, whether the Chinese, Indians or the natives of Sabah and Sarawak, but instead only "acts to sow the poison of prejudice that subtly divides and creates an inter-racial gap in Malaysia's pluralistic society".
"This is a 'divide and rule' move to gain vote support for DAP's political interests alone but comes at a high price for it damages the unity Malaysians," reckoned HarakahDaily. "Any party that is deceived by the two-faced character of DAP will definitely be manipulated." – Feb 15, 2023