LAWYER and renowned activist Haris Ibrahim passed away today.
In a Facebook post, Haris' sister Shobah Veera wrote: "I am sorry to inform you that my brother, Haris Ibrahim, has returned to ramahtullah (God) today, Aug 5, 2023, at 12.45pm.
"The remains are expected to be bathed, shrouded and prayed at Masjid At Taqwa, TTDI, Jalan Datuk Sulaiman, KL. Funeral prayer: In shaa Allah (God willing), I will inform later."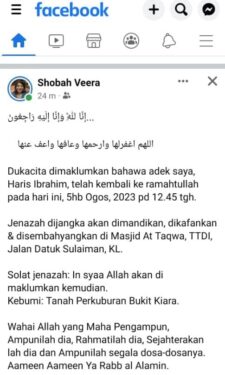 In the heart of KL, a man named Haris left an indelible mark on Malaysian society. A lawyer and an activist, Haris dedicated his life to a dream—a dream of a united Malaysia, free from the divisions of race, religion and culture.
He believed that every Malaysian should identify as one, a "Bangsa Malaysia," transcending any other distinctions.
Haris was an unwavering optimist, always believing in the power of the people to make a change. He knew that when Malaysians joined hands, they became an unstoppable force.
His non-governmental organisation (NGO) ABU (Anyone But UMNO) became a powerful rallying point that contributed to the fall of BN's long-held grip on Malaysian politics during the 14th General Election.
For Haris, unity in diversity was the key. He refused to let divisive concepts like religion and race hinder the forging of a unified Malaysian identity. He believed that Malaysians could rise above these differences and stand together as one.
On April 4, Haris received devastating news – He was diagnosed with Stage 4 lung cancer. Despite the dire prognosis, Haris did not give up without a fight. He chose to share his journey, shedding light on his ailing health and inspiring others to persevere.
Even as he faced his mortality, Haris remained steadfast in his pursuit of social justice. With every breath, he continued to fight for a better Malaysia, never letting go of his dream of a united nation.
In the corridors of power and on the streets, his voice resonated, calling for change, progress and a future where Malaysians would stand together as one.
Haris' legacy will live on, not just as a lawyer and an activist but as a visionary, a symbol of hope and a champion of unity.
His passion for a united Malaysia will continue to inspire generations to come, reminding them that, together, they are an unstoppable force. – Aug 5, 2023