SOMEHOW in conjunction with anniversary of the installation of Sultan Mizan Zainal Abidin today, Terengganu's Islamic Religious and Malay Customs Council (MAIDAM) has banned politicians from delivering religious lectures or ceramahs in mosques and suraus state-wide.
In a statement yesterday (March 3), MAIDAM said Sultan Mizan was upset that some politicians had given religious lectures or classes or even led Friday prayers without the council's approval.
"All state assemblymen, MPs, and senators are not allowed to deliver any religious ceramahs, lectures or teachings in mosques and suraus in Terengganu," MAIDAM pointed out. "All state assemblymen, MPs, and senators are also not allowed to lead Friday prayers in mosques."
With such ruling coming into effect, yesterday (March 3) could be the very last time PAS president Tan Sri Hadi Awang delivered a Friday sermon at the Rusila Mosque in his Marang parliamentary constituency – often to an almost 'sell-out crowd'.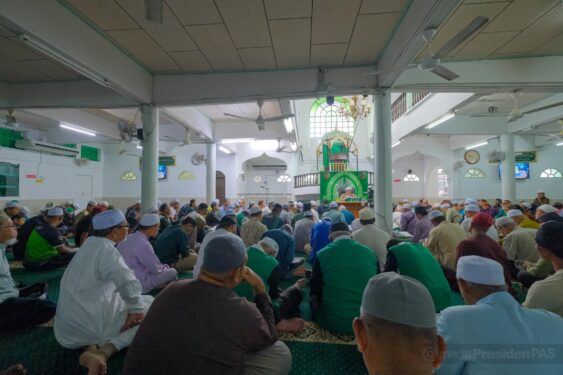 The council further noted that political leaders and activists are also barred from delivering religious ceramahs or lectures without its permission.
"The committee of all mosques and suraus must ensure that speakers, lecturers and teachers as well as imams who led Friday prayers have the necessary accreditation issued by MAIDAM," it stressed.
"All religious programmes organised by government agencies and NGOs (non-governmental organisations) which are staged at public areas or government buildings must involve speakers, lecturers or panel members accredited by MAIDAM."
Added the council: "Towards this end, the Terengganu Religious Affairs Department (JHEAT) will monitor such activities to ensure these instructions are complied with."
In justifying its latest action, MAIDAM said mosques were important and honourable religious institutions to Muslims and a symbol of the unity of the ummah (Muslim solidarity). As such, mosques and suraus should never be abused to create anxiety, restlessness or discord among the community.
"This includes using mosques and suraus for any activity or programme that is mixed with political elements," it noted.
On Jan 17, Johor Crown Prince Tunku Ismail Sultan Ibrahim has also prohibited all the state's suraus and mosques from being used to spread political dakyah (propaganda) and discourse.
According to the Johor Islamic Religious Affairs Committee chairman Mohd Fared Mohd Khalid, the order by Tunku Ismail who is also the Johor Islamic Religious Council (MAINJ) chairman is in accordance with Section 96 of the Islamic Religious Administration Enactment (State of Johor) 2003.
"I would like to stress that any organisation of political programmes in the mosque cannot be implemented at all. Action will be taken against any parties that compromises and allows for political programmes to take place," Mohd Fared pointed out.
"In addition to that, any activities in the form of religious talks, usrah (group discussions), sharing of religious knowledge or others must first obtain authorisation and approval from the Johor Islamic Religious Department (JAINJ)." – March 4, 2023
Pics credit: Tan Sri Hadi Awang's Facebook