CLAIMS by caretaker Kedah menteri besar Datuk Seri Haji Muhammad Sanusi Md Nor that there was a plot to topple him since six months ago may not hold water as the matter has not been brought up with the police.
This has prompted PAS Kedah commissioner Datuk Ahmad Yahaya to issue a clarification today following a denial by Deputy Inspector-General of Police (IGP) Datuk Seri Ayob Khan Mydin Pitchay yesterday (July 25) that there had never been a conspiracy leading to the arrest of Sanusi at 2.30am on July 17.
Does this mean that the PAS warlord-cum-Perikatan Nasional (PN) election director could be in hot soup for fabricating lies or making unsubstantiated claims against the police?
"Anyone can make any claims. But you have to look at the chronology of events; he (Sanusi) made the statement on July 11 and reports were lodged the next day. Then the Selangor Royal Council made a police report on July 14. Then we made the arrest," Ayob Khan told the media yesterday (July 25).
"The question if the police started their investigations six months prior to his arrest or the existence of a conspiracy should not even arise. Action was taken following his statements that were (said to) insult the royal institution."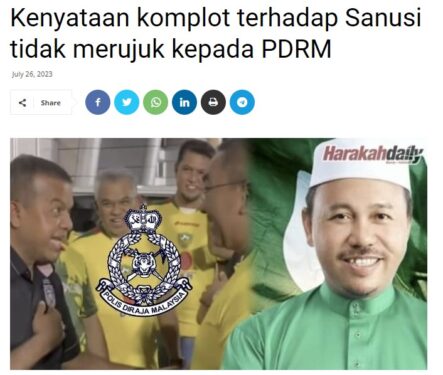 In order "to clear up the confusion that has arisen", Ahmad further 'indemnify' Sanusi and Kedah PAS by emphasising that what he has stated is not related "to the recent arrest of Sanusi by the Royal Malaysia Police (PDRM) even though there were apparently some doubts about the procedure imposed on him".
"PAS Kedah would like to stress that Sanusi is never hostile to the enforcement agencies who carry out their duties with full dedication. The real conflict is with the responsible minister, not with the enforcement body itself," Ahmad pointed out in a statement carried by HarakahDaily.
"This statement is not an assumption; in fact, it was mentioned by Sanusi himself in his series of lectures that 'I'm never hostile to the police but the minister who is in charge of the Home Ministry (Home Minister Datuk Seri Saifuddin Nasution Ismail)."
Moving forward, Kedah PAS hopes that enforcement agencies, especially PDRM and the Malaysian Anti-Corruption Commission (MACC) can carry out their duties professionally.
"Appropriately, the action of the enforcement bodies shouldn't be dictated by any interested party for this will in the long term affect the people's confidence in the integrity of enforcement bodies in our country," justified Ahmad.
"Enforcement bodies should not only be free to act to protect the public interest but must also be seen as independent. Justice must not only be done but must also be seen to be done". – July 26, 2023
Main pic credit: Sengat Daily