HCK Capital Group has always endeavoured to build a responsible, successful and ethical corporate identity.
This effort was further boosted when the company was honoured with the award for "Highest Return to Shareholders over Three Years" at the Malaysia Centurion Club Awards 2022, organised by The Edge and presented by CIMB Bank.
Executive chairman Tan Sri Clement Hii was not able to attend the awards ceremony personally but was given a pleasant surprise when The Edge publisher and CEO Datuk Ho Kay Tat and chief editor Kathy Fong dropped by his office to hand him the award.
"This award is the culmination of everyone's hard work, especially during the pandemic when the construction industry was severely affected. But we persevered and were able to reward our shareholders for their investments," said Hii.
"This award will definitely motivate us to continue doing better."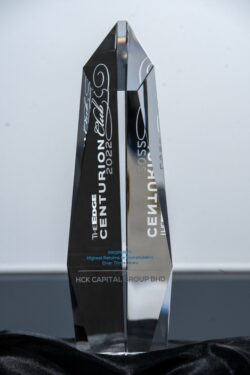 The event – which returned on Monday (Sept 19) night after a two-year hiatus following the COVID-19 pandemic – saw 29 of the country's best performing public-listed companies with a market cap of at least RM100 mil but under RM1 bil being named winners of 36 awards at an exclusive gala dinner graced by Finance Minister Tengku Datuk Seri Zafrul Abdul Aziz.
The awards are the second one under The Edge's banner to recognise the achievements of Corporate Malaysia.
While the first – The Edge Billion Ringgit Club, which is in its 13th year now – celebrates companies with a market cap of at least RM1 bil, The Centurion Club Corporate Awards aim to uncover hidden gems and turn the spotlight on deserving smaller companies whose performance and potential match that of larger conglomerates.
Companies that qualify for inclusion in the Centurion Club must be listed on Bursa Malaysia as at end-March of the current calendar year, must not be suspended or be under Bursa's watch list, and must not be delisted before the date of the awards.
They must also have a market capitalisation of at least RM100 mil but less than RM1 bil. HCK Capital Group has a market capitalisation of just under RM1 bil.
As of March 31, 2022 there were 488 Centurion Club members – as opposed to 423 members in its inaugural year of 2019 – with an estimated collective market cap of RM160.9 bil. – Sept 22, 2022