HCK Capital Group (HCK) has certainly made its mark on the domestic property industry, as evident when it was named among the top five developers in the country with market capitalisation of RM1 bil and above.
The honour was announced at the second annual Malaysia Developer Awards which sets out to recognise star performers in the property development landscape.
Despite being a relative new comer on the property scene, HCK managed to beat more established names underlining the great strides it has made in recent years.
Under the same category, IOI Properties led the way, followed by OSK Holdings Bhd, Matrix Concepts Holdings Bhd, Malaysian Resources Corporation Bhd, HCK Capital Group Bhd, Mah Sing Group Bhd, UEM Sunrise Bhd, IJM Corporation Bhd (IJM Land Bhd), Sime Darby Property Bhd, as well as IGB Bhd and Tropicana Corporation Bhd, which both tied for the tenth position.
"HCK is relatively young as a property developer, hence we are thrilled to be recognised among the top five developers in the category. It speaks volumes about our developments as well as consumer trust in the HCK brand," explained HCK Group Executive Director for Growth and Alliances Datuk Joseph Hii.
"This award is proof that inroads can be made in the property market with the right products that are aligned with consumer expectations."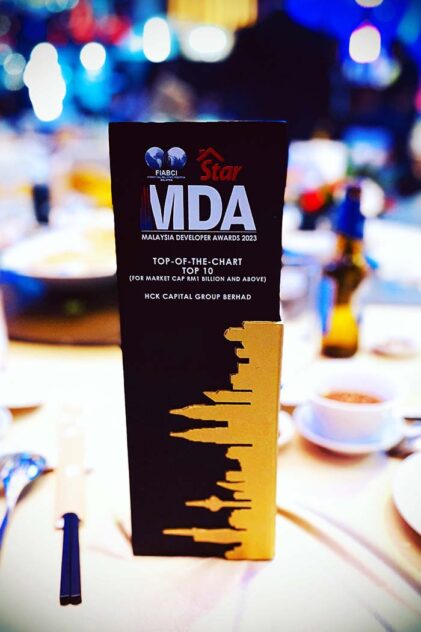 Hii pointed to HCK's education-themed developments that have captured the attention of property buyers and investors alike.
By leveraging on the group's close ties with education institutions, each development is anchored by learning institutions, thereby creating easy access to quality education which is a priority among many home buyers.
Investors were attracted by the continuous footfall these education institutions bring to each development, creating sustainable rental demand, not just for its residential but commercial components as well.
HCK's education cities include edusphere (Cyberjaya), edusentral (Setia Alam) and edumetro (Subang Jaya), all of them being mixed integrated developments.
Hii also believes the award will further enhance HCK's reputation, as they are already being recognised as a developer that delivers.
"HCK is set to deliver Vacant Possession of over 4,000 units this year alone, which may not be a large number compared to other big players, but it emphasises that HCK is growing and buyers can buy with confidence, knowing that HCK will deliver on its promises," he remarked.
The prestigious event was held at M Resort and Hotel Kuala Lumpur and saw 28 recipients being awarded for their achievements through various categories under the Top-of-the-Chart Awards and Special Awards.
The judging panel was made up of experts and professionals across multiple disciplines in the development industry, providing a fair and just evaluation.
The event jointly organised by Star Media Group and international real estate federation FIABCI.
The latter is a worldwide network whose membership is open to all professionals involved in the property industry, enabling its members to maximise their business opportunities by sharing information and contacts on local, national and international levels. Its chapters currently operate in 60 countries.
Having these organisations behind the Malaysia Developer Awards coupled with an independent judging panel certainly lend it extra prestige.
The chief judges were Bursa Malaysia Bhd chairman Tan Sri Abdul Wahid Omar and Klang Municipal Council president Noraini Roslan.
For more information on HCK Capital Group, visit https://hckgroup.my/. – Aug 25, 2023