POLITICIANS must stop behaving as if there will still be doctors and nurses in the health system because of what they do or say.
Instead, they must swiftly stem the brain drain syndrome in the form of outpouring of expertise and manpower from the public healthcare system by presenting a comprehensive plan to address the massive hemorrhage of talent happening today.
"Almost weekly across the country, dozens of young, experienced and senior medical professionals including doctors, nurses and specialists are submitting their resignations from contract and permanent positions," cautioned Galen Centre for Health and Social Policy founder & CEO Azrul Mohd Khalib.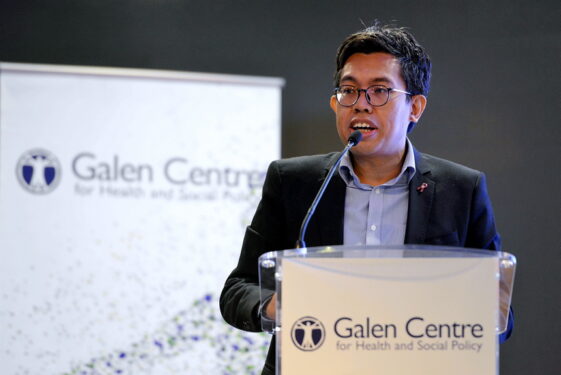 "Reasons for leaving include frustration at the lack of transparency on the issue of contract and permanent positions, bullying and sexual harassment in the workplace, accusations of violations of workers' rights and exploitation (such as working beyond permitted hours), being underpaid, burnout and poor work conditions."
In addition to the brain drain issue, the health think tank has also earmarked three other issues for adoption by the unity government as part of its key performance indicators (KPIs) for the health portfolio in the first 100 days of its administration.
They are:
Tackling the congestion in hospital emergency departments: Citing the Auditor- General Report 2018, Galen Centre said patients are facing unreasonably long hours waiting for treatment and care in the emergency departments (ED) and sometimes even longer periods which have stretched to days waiting for transfer to beds in wards.
 "This is not just an inconvenience for patients and staff, ED crowding is a significant source of patient harm," asserted Azrul. "People are being treated and even dying in corridors. The situation is also an indicator of a dysfunctional healthcare system."
Address the concern regarding safety of public healthcare facilities: Around a third of Malaysia's public hospitals are more than 100 years old with several dozen having no fire certificate till today.
 "In comparison, a private hospital would never be allowed to operate without one. The threat of fire is not theoretical," warned Azrul. "The government needs to implement an audit of all fire and related safety measures on all its healthcare facilities, imposing the same standards that it insists on for private healthcare facilities."
Recall that the intensive care unit of Hospital Sultanah Aminah (HSA) burned in 2016, claiming the lives of six patients and injuring several others including staff. Shockingly, there had already been several fires prior to that, including another in 2020. In 2021, another fire broke out in a public clinic in Kuching.
Table the Tobacco Control Bill, and regulate vaping and vape products: The consequences of currently having no regulation are clear given the age of those who vape are getting alarming younger (school children are now vaping).
 "The nicotine concentration in Malaysia is exceptionally high (5%) and not available in most countries which regulate vape while the cost of vaping is lower than cigarettes, hence making it an attractive habit to take up," observed Azrul.
He added: "This Bill was worked on and reached a compromise by a parliamentary special select committee which was bipartisan and worked hard to accommodate the views of all parties." – Jan 16, 2023
Main pic credit: Code Blue