WHILE 2022 vehicle sales in Malaysia jumped 41.6% year-on-year (yoy) to a record 720,658 units – driven by higher sales in the non-national segment (+46.3% yoy) led by Japanese marques – similar performance is unlikely to be replicated in 2023 due to expiry of the SST (sales and service tax) grace period and softer buyer sentiment.
As such, CGS-CIMB Research has forecast a 7.7% drop in total industry volume (TIV) for 2023F to 665,000 units which is still higher than the Malaysian Automotive Association's (MMA) 650,000 TIV in 2023F (-9.8% yoy) due to on-going supply constraints and rising interest rate environment which dampens consumer confidence beyond the SST grace period.
"Although we see the recent Bank Negara Malaysia (BNM)'s decision not to raise the overnight policy rate (OPR) as positive for consumer sentiment in the near-term, we are still wary about future OPR hikes," suggested analyst Mohd Shanaz Noor Azam in a sector update.
"Our economist is still projecting two 25bps (basis points) rate hike which would effectively raise OPR from 2.75% to 3.25% by end-2023F."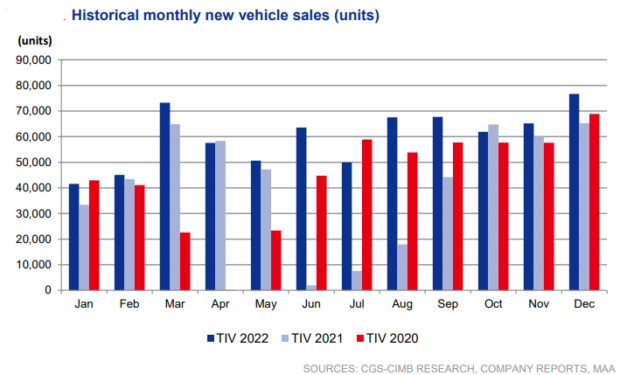 Additionally, a number of automakers have also raised prices in January 2023 due to rising material, component and electricity costs.
Despite the lower TIV outlook, CGS-CIMB Research expects national brands Proton and Perodua to fare relatively better than the non-national segment in view of their rolling out multiple new launches in 2023F.
It further expects Perodua's sales volume to decline by 6% yoy to 265,000 units following its record sales delivery in 2022 and amid softer economic conditions in 2023.
"While Perodua still has a strong order bank to sustain sales during the SST grace period in 1Q 2023, we see order replenishment risk beyond 1Q 2023F, especially if the economy faces an extended slowdown," projected the research house.
"We think Perodua is also more susceptible to an economic slowdown in view of its bigger exposure to the mass consumer segment."
However, CGS-CIMB Research expects Proton to maintain its growth momentum in 2023F by riding on the popularity of its flagship X50 and X70 SUV as well as new model launches.
"We expect Proton to launch two new models in 2023, namely the Proton X90 SUV and Proton S90 sedan. Overall, we expect the national brands (Perodua and Proton) to gain a higher 62% market share in 2023F (vs 58% in 2022)," noted the research house.
"Apart from that, we see growing consumer excitement in new electric vehicle (EV) launches offered at competitive prices to sustain buying interest."
Elsewhere, CGS-CIMB Research sees the government's decision to defer new open market value (OMV) excise duty regulations by two years from 2023 to 2025 as helping to contain the rise in average selling prices and sustain demand in 2023F.
"Key upside risks to our Neutral call are the strengthening of the ringgit vs the US dollar and Japanese yen, a reduction in interest rates, and favourable government policies to revive domestic demand." noted the research house.
"The ringgit's depreciation vs. the US dollar and Japanese yen, interest rate hikes, a new wave of Covid-19 infections and extended semiconductor chip and component shortages are key downside risks to our call." – Jan 26, 2023
Pic caption: Zigwheels