WHEN it comes to body cameras (bodycam) for police officers, Home Affairs Minister Datuk Seri Saifuddin Nasution Ismail has stated that his instructions are simple: install them as quickly as possible, with no compromises.
However, the required parameters for the cameras to be purchased are still being determined.
"My instructions are simple, which is that it needs to be done as soon as possible without compromising any principle of transparency in the procurement," Malaysiakini reported Saifuddin as saying last night (Feb 15) in Putrajaya.
"For now, the procurement has not yet been done as it is still in the stage of setting specifications that suit our needs."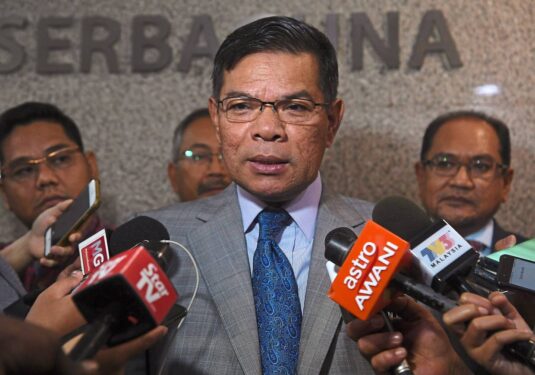 Saifuddin Nasution (Photo credit: Bernama)
Saifuddin was commenting on concerns raised by Kepong MP Lim Lip Eng regarding the use of bodycams for the police force which was announced in 2021. Lim had addressed the matter following a raid on an 'underground' music performance in George Town, Penang, that allegedly did not have an entertainment license.
Three of the four people apprehended were held for filming the police raid. The police told the trio that documenting raids was not permitted and requested them to delete the photos. The three were released an hour after they were apprehended, according to the venue's co-owner Shaik Fitri. 
Elaborating further, Saifuddin clarified that the problem with getting bodycams for the police force has nothing to do with money.
"The budget is there. The procurement division is still finalising the specifications, and once implemented, the police will start using the gadgets which I believe would improve the efficiency of the police force."
According to Saifuddin, the use of police bodycam will confer several advantages. It can be a tool for gathering evidence.
"And it can improve the police's integrity when they are aware that they are being watched by the gadget and any manipulation by whichever party can be kept in check," he added.
A RM30 mil budgetary allocation was granted in 2021 by the administration of former prime minister Tan Sri Muhyiddin Yassin for the procurement of bodycams for the police force.
The announcement was well-received by the police who requested that the purchase be expedited. – Feb 16, 2023