RIVERTREE Group, an innovative property developer in Malaysia and one of the industry market drivers in sustainable property development, is thrilled to announce its recent accolade – the distinguished 2023 GreenRE Bronze Award from GreenRE Sdn Bhd.
The award reflects Rivertree's unwavering commitment to sustainable practices and green building excellence.
The prestigious GreenRE Award recognises outstanding projects that demonstrate a dedication to sustainability. Projects earn points by fulfilling pre-requisites and garnering credits for green-building prowess. With this honour, Rivertree has firmly positioned itself at the helm of eco-friendly property development in Malaysia.
"Securing the GreenRE Bronze Award for our project is not just a testament to our hard work but also an affirmation of our dedication to pushing the boundaries of green and sustainable property development," commented Rivertree Group's managing director Datuk Simon David Leong.
"Our investment of close to RM1 mil in sustainability initiatives shows our stakeholders that we are vocal advocates and active participants in this green revolution."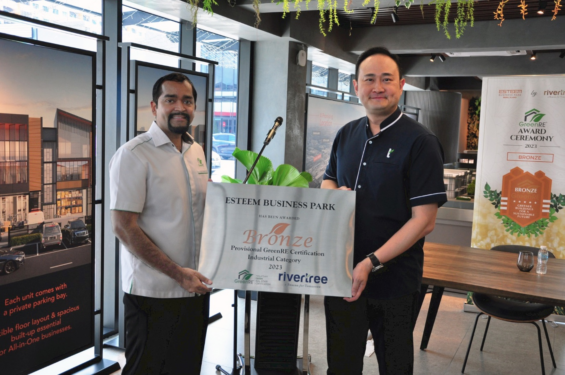 Added Leong: "In view of this, we are now actively in discussion with the appropriate partners about potential areas of collaboration with regard to renewable energy (RE) projects that will align with the National Energy Transition Roadmap (NETR) which was announced by Economy Minister Rafizi Ramli on July 27."
Further amplifying its commitment, Rivertree also unveiled a memorandum of understanding (MOU) with Greenshift Solutions Sdn Bhd.
The strategic partnership aims to provide property buyers with a choice of either renting their roofs or investing in solar panels. Rivertree and Greenshift Solutions are collectively driving the change by encouraging owners to adopt greener energy solutions and substantially reduce carbon footprints.
This pioneering initiative allows buyers a dual benefit. In the short term, owners can generate additional revenue by renting their roofs – a ground-breaking concept in the industrial building sector.
Over the long haul, a GreenRE-certified property promises improved rental returns, particularly enticing for suppliers and companies targeting the European and American markets.
"Our alliance with Greenshift Solutions is a reflection of our long-term vision. As a developer, embracing sustainable and green development is imperative for our continued success," envisages Leong. "Together with Greenshift Solutions, we are set to re-define the norms and set new industry benchmarks."
Moving forward, the Rivertree Group will target new property development projects in prime locations such as Gombak, KLCC and Mont Kiara in the Klang Valley. Each project echoes Rivertree's promise of prioritising sustainability. – Sept 4, 2023