BUSINESS owners out there better keep tabs on political affiliation of social media influencers whom they collaborate with lest they may end up with the fate of family-owned Bumiputera coffee joint Mukarami Coffee.
What transpired was that on June 27, digital creator DD Chronicles (real name is Didi Sulaiman Rae) dined at the USJ 21 outlet of Mukarami Coffee with his family. Pleased with the offerings, business owner-cum-operator Azlina Amran invited him to produce a review.
In the said review, DD engaged with Azlina in a playful game of rock-paper-scissors, humorously portraying her "losing" the café to him.
"He (then) posted this video on his social media platform on June 28 claiming he is Mukarami Coffee's 'new owner' (when in actual fact the ownership of Mukarami Coffee remained unchanged and is never transferred to DD)," related Azlina's sister Rafizah Amran who acted as the business' marketing coordinator in a social media posting.
"Subsequently, a follow-up video was produced where Azlina attempted to 'reclaim' the cafe in a friendly waffle decoration contest with DD Chronicles. Consistent with the jesting narrative, she 'lost' again." [Editor's note: The postings have been deleted from DD Chronicles' Facebook (FB) page.]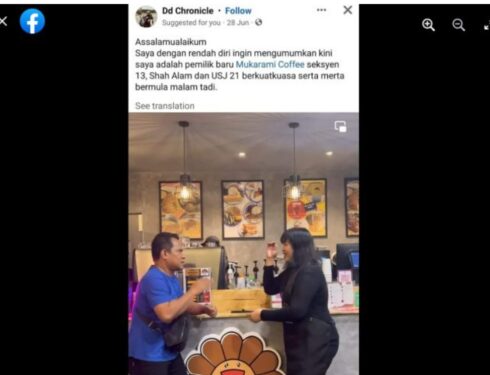 Everything went on fine until the run-up to the six state polls on Aug 12 when DD Chronicles openly displayed his allegiance to Perikatan Nasional (PN), particularly by endorsing PAS. This was demonstrated by the creation of various parodies and songs that poked fun on Pakatan Harapan (PH) on his FB page.
In retaliation, a FB group which called itself "Walaun PAS Buat Lawak Apa Hari Ini" had on yesterday (Aug 20) morning urged a boycott of businesses featured by DD, including Mukarami Coffee. [Editor's note: The group was set up following the so-called 'unity government wave' to launch boycott against businesses whose owners are seen 'attacking' the Pakatan Harapan-Barisan Nasional (PH-BN) alliance.]
"By 6am (Aug 20), we observed a sudden influx of unwarranted one–star reviews on Google Review and FB. Our investigations traced the origin of this boycott to the aforementioned group," revealed Rafizah who shared that the management of Mukarami Coffee has since:
Filed an official police report.
Reported the matter to the Malaysian Communications and Multimedia Commission (MCMC).
Initiated actions to report fictitious accounts and reviews on Google and FB.
Released a media statement to provide clarification on the situation.
Communicated with the administrators of the group.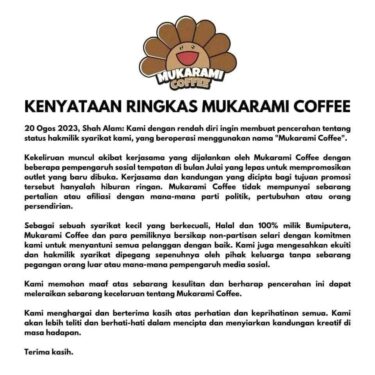 "Despite our outreach, the group persists in continuing to encourage spurious reviews. We would like to iterate that Mukarami Coffee's stance has always been neutral and non-partisan as reflected in our social media posts and the ethos of our owners," Rafizah pointed out.
"Our focus is to provide a safe, affordable and friendly coffee options to the neighbourhood that we serve. We continue to seek a swift and amicable solution to this matter. In the meantime, we assure our patrons that our products and services remain #shockinglygood." – Aug 21, 2023