SOMETIMES simplicity coupled with humility is the best success recipe as opposed to the gung-ho or overzealous attitude of making one global breakthrough after another only to fumble with face lying down due to "lost touch with reality" syndrome.
Perhaps the owners of world-class global integrated oil & gas (O&G) outfits Sapura Energy Bhd and Serba Dinamik Holdings Bhd should take a leaf from founders of Ramly Burger, the impeccable husband and wife team of Datuk Ramly Mokni and Datin Shala Siah Abdul Manap.
No silver platter but a truly genuine rug-to-riches story of how Ramly Food Processing Sdn Bhd was founded in 1984 – five years since Ramly started to flip hand-made burger patties from his flat in Lorong Haji Hussein, Kuala Lumpur.
In 2019, Ramly's annual sales hit RM1 bil and the company targeted 20% growth even at the height of the COVID-19 pandemic in 2020. The Ramly Group will also invest more than RM500 mil to expand their production capacity as they aim to produce 6 million burger patties a day.
This is six times more than what the company is currently producing daily and 60 times more than when they first started which was 100,000 burger patties a day.
In an interview with Astro Awani in November 2020, Ramly shared how he had applied for a loan of RM7,000 from Majlis Amanah Rakyat (MARA) but was rejected.
"I think at the time Malays were not interested in burgers yet," he suspected.
Although feeling dejected, the former butcher at a supermarket refused to give up – he slogged to start his business with just a capital of RM2,000 and produced 200 burger patties on a daily basis.
In view of lack of funding, he created these patties manually with the help of his wife by using his hands and knives at home.
Although his product was not well-received initially, Ramly persevered – he later opened his own burger stall near Chow Kit and started selling cooked and uncooked patties. He further tweaked the flavour of his patties to the liking of the local palate.
The demand for their patties then grew with the couple started producing 3,000 meats per day or 15 times more of what they originally produced a day. And the rest as they say is history.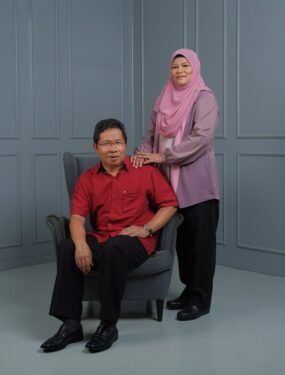 Organic growth
That Ramly has grown his business without any element of favouritism and cable pulling has actually made Ramly Burger what it is today. On the hindsight, supposedly if Ramly were to indulge in the game of rubbing shoulders with politicians at the outset of his business venture, there is obviously a high chance that Ramly Burger wouldn't be around anymore.
Probably, Ramly Burger would have seen a meteoric rise which is unsustainable and thereafter saw its business nosedive and ultimately, fading into oblivion.
This is also probably the reason why Ramly has always eluded the idea of listing Ramly Burger on Bursa Malaysia. Politicians would probably race to make Ramly Burger an icon of Bumiputera achievement in the realm of business.
But thankfully, glory of this nature doesn't jive with Ramly, if not Ramly Burger would have been listed a decade ago.
While the idea of listing Ramly Burger will enable the company to grow exponentially, Ramly knows that he risks losing control of the company and worse still – if he is not careful – loses control of the entire company that he has built with so much sweat and tears should a hostile takeover ensues.
After all, Ramly would have dread that the humble beginning he truly cherishes goes down the drain, leaving no legacy for his children and grandchildren.
As this humble piece on Ramly Burger is being penned, both Sapura Energy and Serba Dinamik seemed to have turned corners.
Ever since the bailout debate between former premier Datuk Seri Najib Razak and Opposition leader/PKR president Datuk Seri Anwar Ibrahim on May 12, Sapura Energy has at 12.13pm edged up 2.5 sen or 55.6% to 7 sen with 610.99 million shares traded which gave the company a market capitalisation of RM1.12 bil.
Meanwhile, Serba Dinamik has rebounded 6.5 sen or 58.33% to 19 sen (after nosediving to 6 sen on May 11) with 416.57 million shares traded, thus valuing the company at RM671 mil. – May 17, 2022