THE sorry state of the Perak Movie Animation Park Studio (MAPS Perak) captured on TikTok has invited fury of netizens as to how RM520 mil was wasted to build the ill-fated theme park in the vicinity of Bandar Meru Raya in Ipoh.
Apparently, the joint venture (JV) project between Bursa Malaysia-listed Perak Corp Bhd – a 51.5%-owned Perak State Development Corporation – and the Sanderson Group has been temporarily closed since Jan 28, 2020.
The 1:16 video clip by netizen superscarei shows the theme park being abandoned with grass and lalang growing around what was poised to be the first fully animation-based theme park in Asia that boasted attractions from renowned studios such as DreamWorks Animation and cartoon characters such as The Smurfs and BoBoiBoy.
"The big amount of money spent on the project should have been allocated to re-construct  Mimaland (Malaysia's first theme park in Gombak which has also been abandoned) based on its original design to rekindle old memory," opined netizen bandlessburn FC.
"It's not about strategy … my friend's father who was an engineer handling the MAPS project claimed that there were abuse money involving middlemen," revealed Beeha 🐈‍⬛ with user6905938849488 chipping in: "But Sunway Lagoon and Genting SkyWorlds can be successful … Just think of it."

Added netizen Izzuddin Jamal: "Every time I pass by, I feel agitated for millions of state government money is wasted like that" while R. Saminatha Pather Jewellery remarked: "How to afford when the entry ticket alone is RM130."

Netizen Tommy summed up best: "This is one example on how our country shows lack of responsibility and waste on something that could be a great contribution 😔 sad."

To further re-cap, MAPS Perak was first unveiled in early 2014 and was planned to open in 2015 but its opening encountered delays. In April 2017, the theme park which boasted 40 attractions in six themed zones was said to have 96% of its construction completed and was eventually opened on June 26 that year.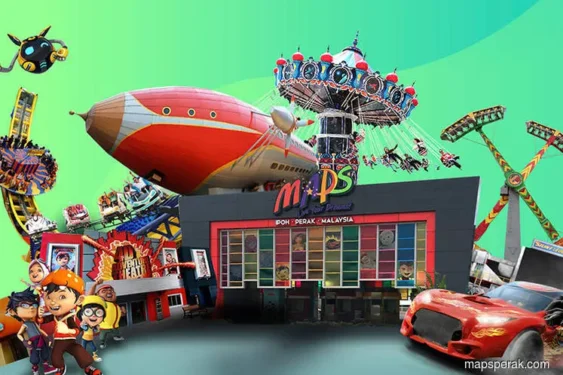 However, in August 2018, Perak Corp's indirect 51%-owned subsidiary Animation Theme Park Sdn Bhd (ATP) dropped plans to include DreamWorks' attractions after both parties failed to reach an agreement to open DreamWorks' attractions to the public.
In an Aug 8, 2018 filing with Bursa Malaysia, Perak Corp said ATP had discontinued the licence agreement entered with the US' DreamWorks Animation LLC on Jan 1, 2013 for the establishment and operation of DreamWorks' attractions within MAPS Perak. – Sept 22, 2023
Main pic: Ipoh Echo